From Waterproof To Fingerless Gloves
When the days get shorter and cooler, we'll often layer on a coat or hat, but we shouldn't forget a good pair of gloves, either! 🧤 They provide warmth and protection against extreme climates—and they're downright cozy.
This fall and winter, stay toasty with these sustainable winter gloves. These seven brands use repurposed fabrics (like leftover wool sweaters and landfill-bound polyester) and responsibly sourced wool and cashmere for the protection we need, all season long.
Like mittens instead? Check out our guide to sustainable and hand-knit mittens.
---
1. Patagonia
Best For | Outdoor adventures
Materials | Recycled polyester, natural rubber
Ethics | Certified B Corp, ethically made (some Fair Trade Certified), responsibly sourced & recycled materials, gives back
Price | $19–$85
When it comes to the great outdoors, no one does it like Patagonia. This certified B Corp has made outdoor apparel and gear for every kind of adventurer. These responsibly made gloves are all made with majority recycled polyester to help keep the fabric out of landfills, and some are supplemented with FSC-certified natural rubber for extra durability. From everyday kids' mitts to waterproof wetsuit gloves, you'll find the warmth you need.
---
2. Quince
Best For | Touchscreen-friendly gloves
Materials | 100 percent cashmere
Ethics | Responsibly sourced cashmere, ethically made
Price | $29.90
Quince is a lifestyle brand making sustainable and luxurious fabrics (like Mongolian cashmere) available to the masses—and all at an accessible price point. These Grade A cashmere gloves are some of the softest you'll ever wear, responsibly sourced from Hircus goats. Available in six colors, they're even equipped with touchscreen-friendly fingertips. Stay accessible, without the chill.
---
3. French Knot
Best For | Hand warmers & mittens
Materials | Wool & mohair blends
Ethics | Artisan-made in Nepal, fair trade labor & wages, responsibly sourced wool
Price | $40–$66
French Knot wants you to "wrap your hands in elegant warmth." This whimsical collection of hand warmers and fingerless gloves are all designed by founder Lindsay Mason, with lots of dainty colors and intricate embroidery. Each pair is then made by women artisans in Nepal, who are offered fair wages and working conditions, often in knitting circles. The wool in every pair here is also spun and dyed by hand, so you're getting two-of-a-kind gloves with some serious personality.
---
4. Organic Basics
Best For | Small & large sizes
Materials | Recycled & virgin cashmere, merino wool
Ethics | Certified B Corp, responsibly sourced & recycled materials, ethically made, carbon-neutral shipping, low waste, gives back
Price | $70
For those in cooler temps year-round, consider splurging on Organic Basics' gloves. These investment pieces are made with recycled cashmere, sourced from previously worn garments that would have otherwise ended up in landfills. With five highly pigmented color options and two sizes, you're guaranteed the right fit. Though the brand is based in Denmark, you can take advantage of its free carbon-neutral worldwide shipping!
---
5. Turtle Doves Co.
Best For | Fingerless gloves
Materials | 100 percent cashmere
Ethics | Recycled & upcycled cashmere, zero waste, eco-friendly production, ethically made in UK
Price | £29–£32
Turtle Doves Co is a UK brand turning upcycled cashmere into all sorts of blankets, scarves, and ponchos. Its fingerless gloves are a best-selling product year-round since they can be worn as gloves or simply wrist-warmers throughout the day. With nearly 60 colors to choose from, you're sure to find one that matches your wardrobe. (PS: Got an old cashmere jumper lying around? The team will upcycle them into gloves for you! Talk about low waste.)
---
6. Sartoria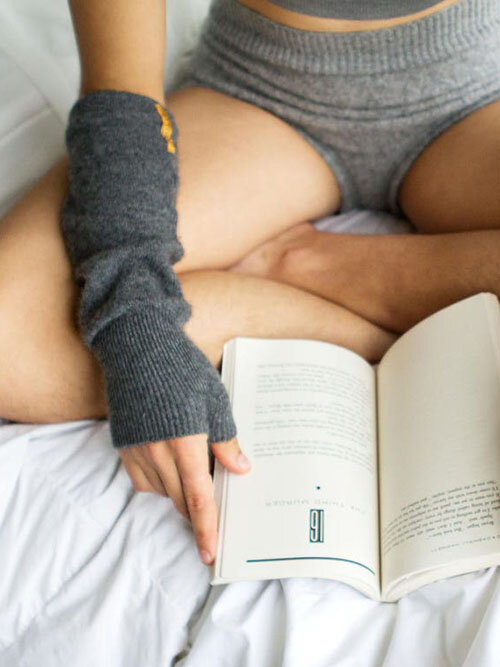 Best For | Arm warmers
Materials | Upcycled cashmere & merino wool
Ethics | Made-to-order, upcycled materials, carbon-neutral shipping
Price | $41.22–$53.58
Sartoria is a cashmere and wool undergarments brand based in Toronto, Canada. The team uses upcycled sweaters to craft made-to-order pieces, including long johns, knickers, and arm warmers. You can take your pick from merino or cashmere, and above-the-elbow length or below. After the gloves are made by Sartoria's two seamstresses, they're sent to the team's studio just a bike ride away to minimize emissions—did we mention they're sent to you via carbon-neutral shipping?
---
7. Picture
Best For | Extreme cold
Materials | Recycled polyester
Ethics | Certified B Corp, ethically made, eco-friendly packaging, responsibly sourced & recycled materials, gives back
Price | €35–€90
Picture brings you the best in eco-friendly outdoor clothing, made for the mountains to the ocean, and everywhere in between. That's why it's no surprise that this certified B Corp has crafted the perfect gloves for extreme temperatures. These unisex options are made with recycled polyester and each is rated for breathability, warmth, and "waterproofness." With a focus on sustainability and longevity, Picture also offers repair options when available. Shipping available to select countries in Europe.
---
Featured image from Quince
---
A 30-second newsletter delivered to your inbox each morning with tips for self-care and sustainable living. 🌿 Join over 215,000 readers who start their day with something good.✨
Thank you! Check your inbox for a confirmation email. Xx
---
The Good Trade editors endorse products we genuinely love. If you end up making a purchase through one of our affiliate links, we may earn a commission. Learn more here.
---
RELATED READING