How to make this cute Love Bird Kids Craft with cupcake liners and more! The perfect Valentine's Day craft for kids or even a spring craft.
The holidays are over and it's time to start thinking about Valentine's Day and springtime too!  One of my favorite craft supplies to use for easy kids crafts are cupcake liners.  I used them here with my Easy Superhero Craft and my cute Ballerina craft, and now I've got another easy cupcake liner kids craft for you!  This love bird craft for kids is easy and delightful.  It involves a little bit of gluing, but overall it's super simple for little kids to make on their own.  It's a fun kids craft for Valentine's Day or a fun spring kids craft too.  Let's get crafting!
*This post contains affiliate links.  There is no cost to you to click on these links and they help support my website. Thank you!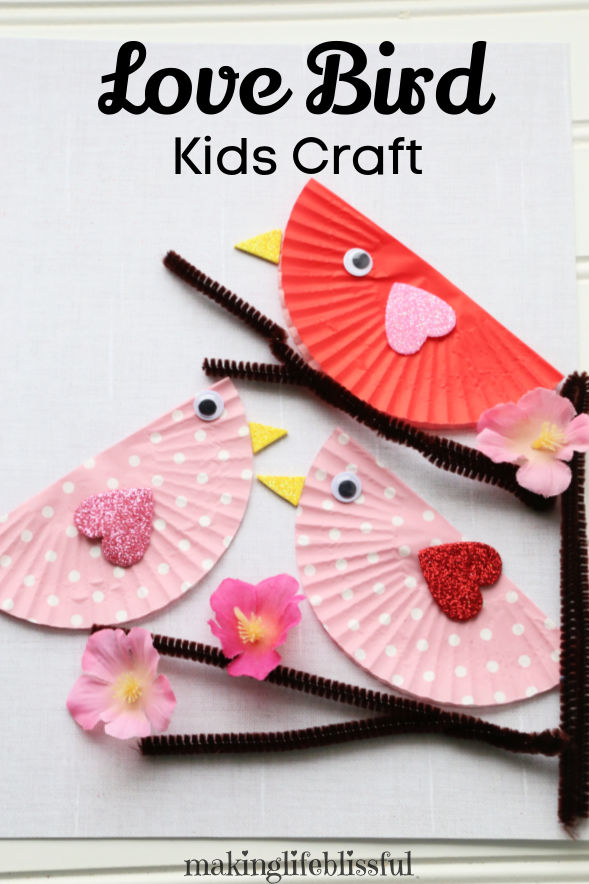 Aren't these little love birds so cute for the children to make?!  In addition to this craft, you may also like this Valentine Little Love Birds craft from Mas & Pas that uses paper plates instead of cupcake liners.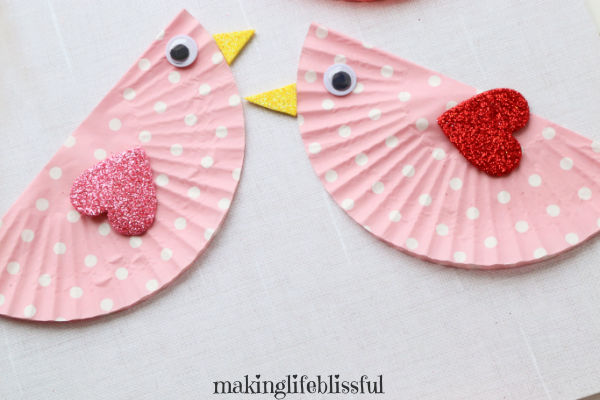 This really is a simple craft, but let's get started with the details . . .
How to make a love bird kids craft: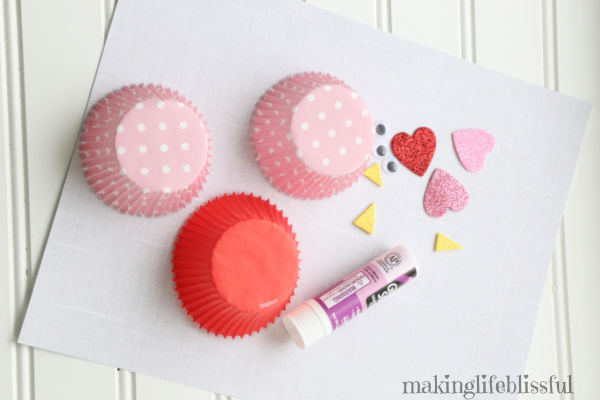 You will need:
Googly eyes
A glue stick or any craft glue
Yellow paper or foam cut into triangles
Heart shapes or heart stickers
Sheet of plain white or colored paper
Brown pipe cleaners (optional)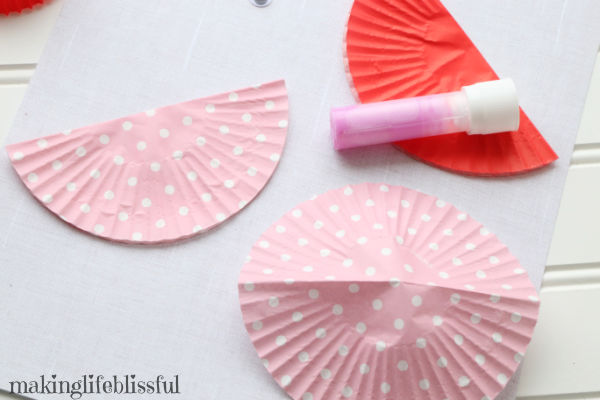 Step 1:
Flatten the cupcake liners and fold the cupcake liner in half and glue the inside together.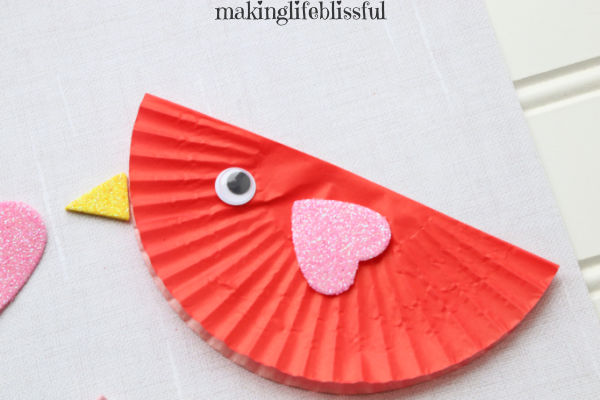 Step 2:
Glue the triangle, heart, and googly eyes on the cupcake liner.  Make sure the eyes and the yellow paper (the beaks) are nearby each other so it looks like a bird.  Turn the hearts upside to look like wings.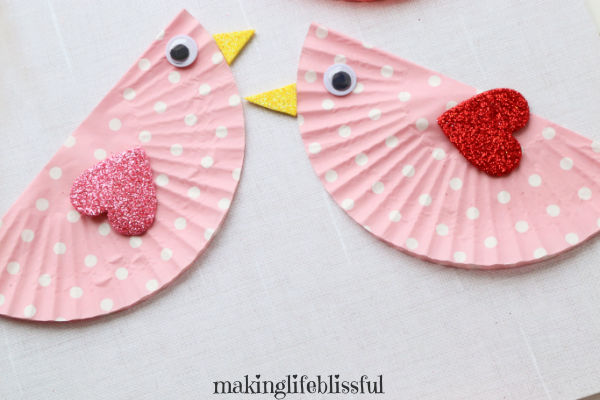 Step 3:
Glue the birds onto a piece of paper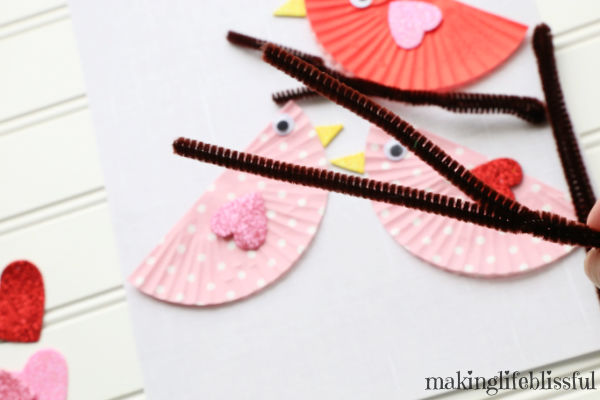 Optional:
Twist a pipe cleaner into the shape of a tree branch and glue on the paper underneath the birds so it looks like they are sitting on the branches.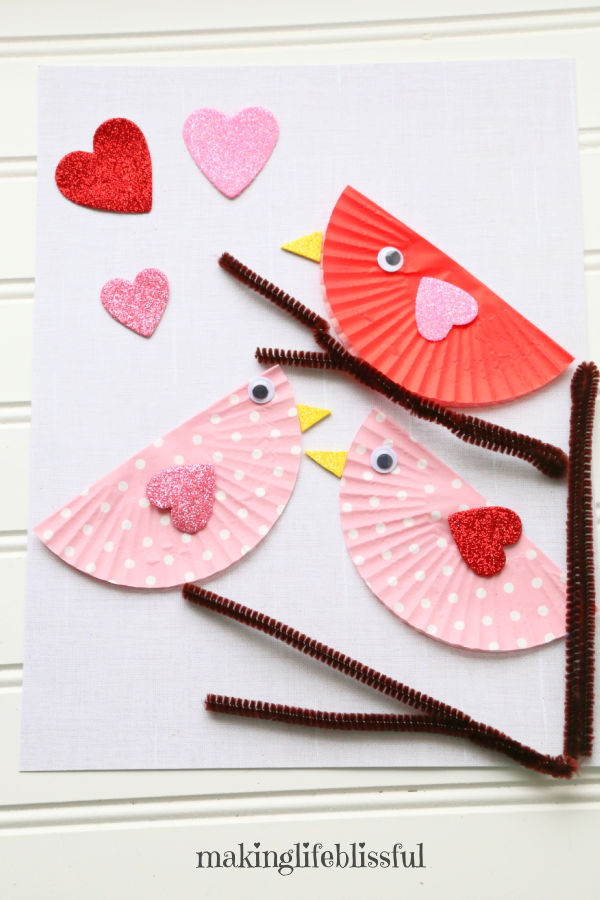 And you're done!  Let the glue dry and display!
You may also like:
The post
Love Bird Kids Craft
first appeared on
Making Life Blissful
.