Halloween is less than a week away, so if you haven't already gotten into the spooky spirit, now is most definitely the time! Between last-minute costume making, pumpkin carving, and Halloween party planning you may find you've got a lot on your plate. Not to worry! If you're looking for simple crafts to make at a Halloween party or for your kids to make at home this week, the projects below all feature supplies found in nature – so no extra trips to the craft store or special orders online for specific materials needed!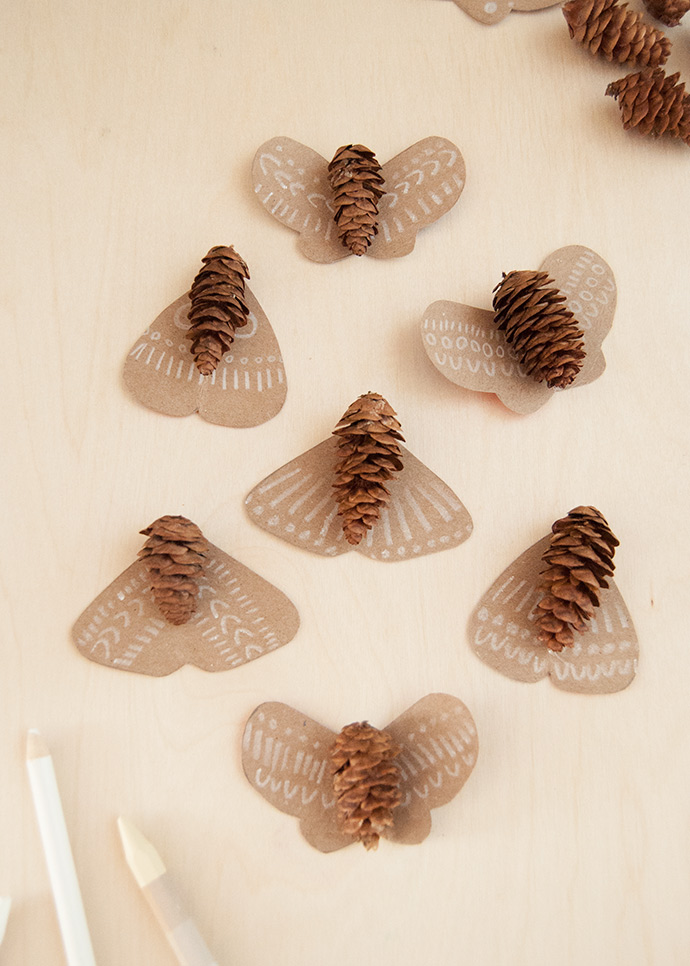 Pinecone Moths
Have you noticed that pinecones look a lot like the furry bodies of moths? Draw designs and patterns inspired by moth wings onto upcycled cereal box cardboard and use pinecones as the moths' bodies.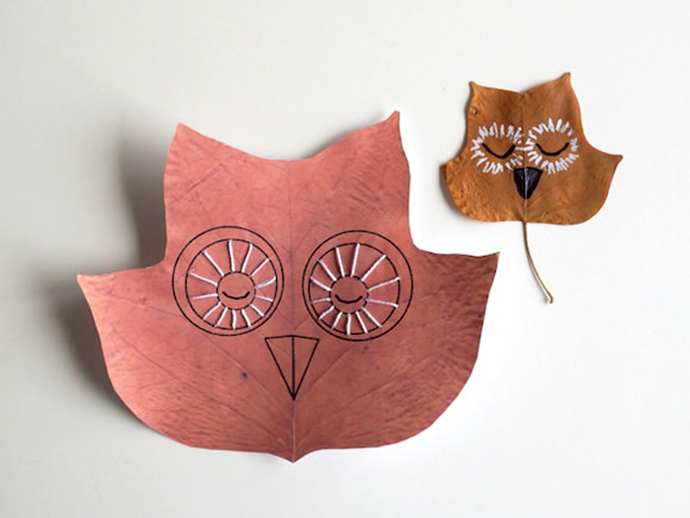 DIY Leaf Animals
Head outside and hunt for interesting leaves! Leaves are great for drawing a bunch of spooky animals: foxes, cats, and owls! Check out this post for lots of inspiration and to get this printable leaf owl sewing card, pictured above.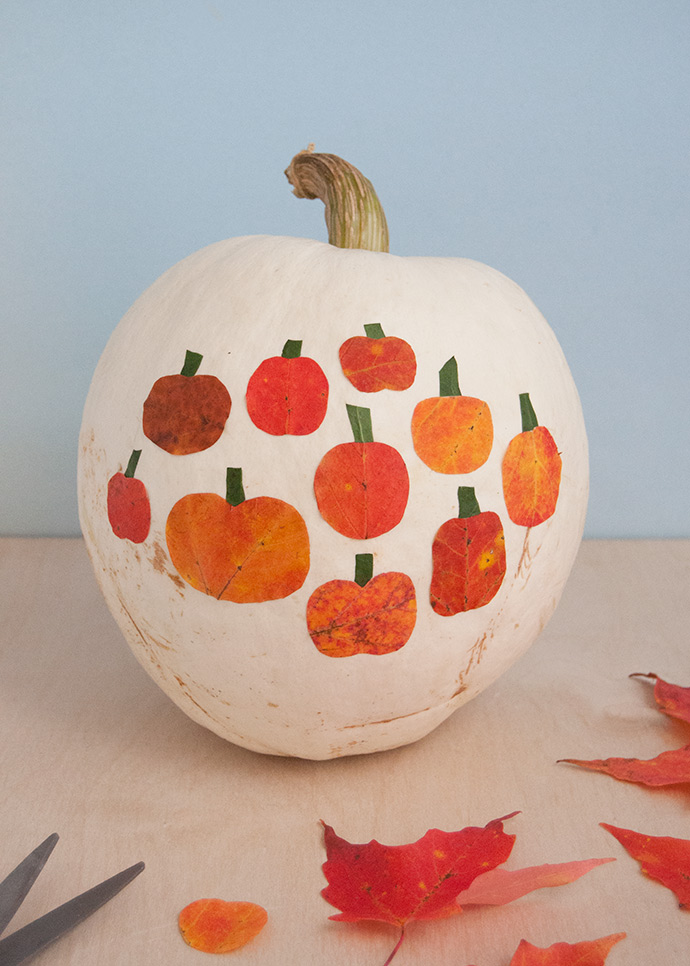 Leaf Art Pumpkins
Collect orange leaves on your next walk around the neighborhood and with just a pair of scissors and a glue stick, you can create a mini pumpkin patch on your pumpkins! Or do this same technique on paper as DIY art to display.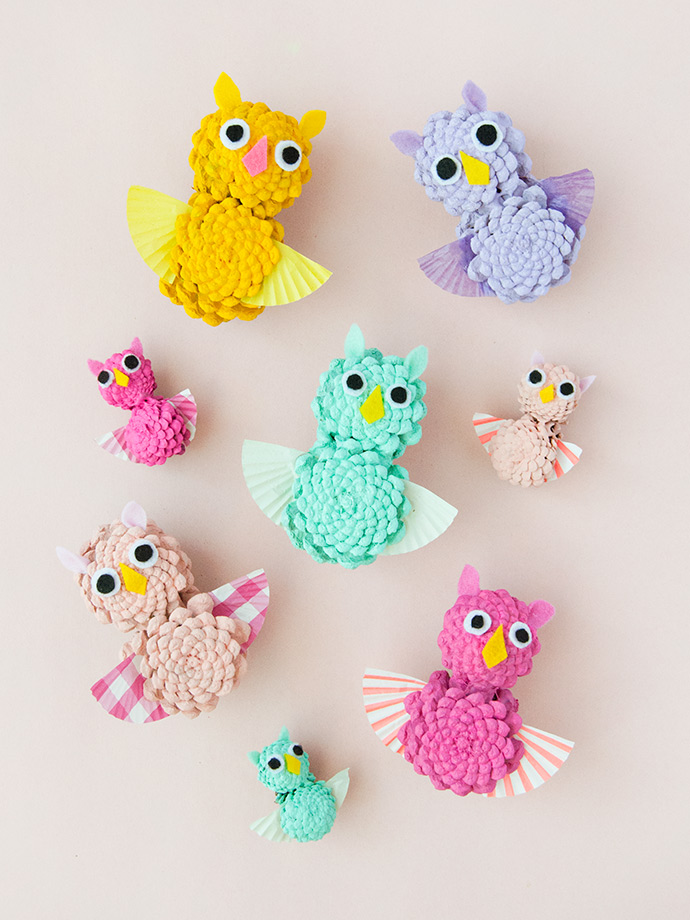 Painted Pinecone Owls
These cheerful owls are ready for Halloween! Gather up pinecones in various sizes and turn them into these colorful owls with paint and cupcake liners. These ones are bright and cheery, but you could make them a bit spookier using Halloween colors instead!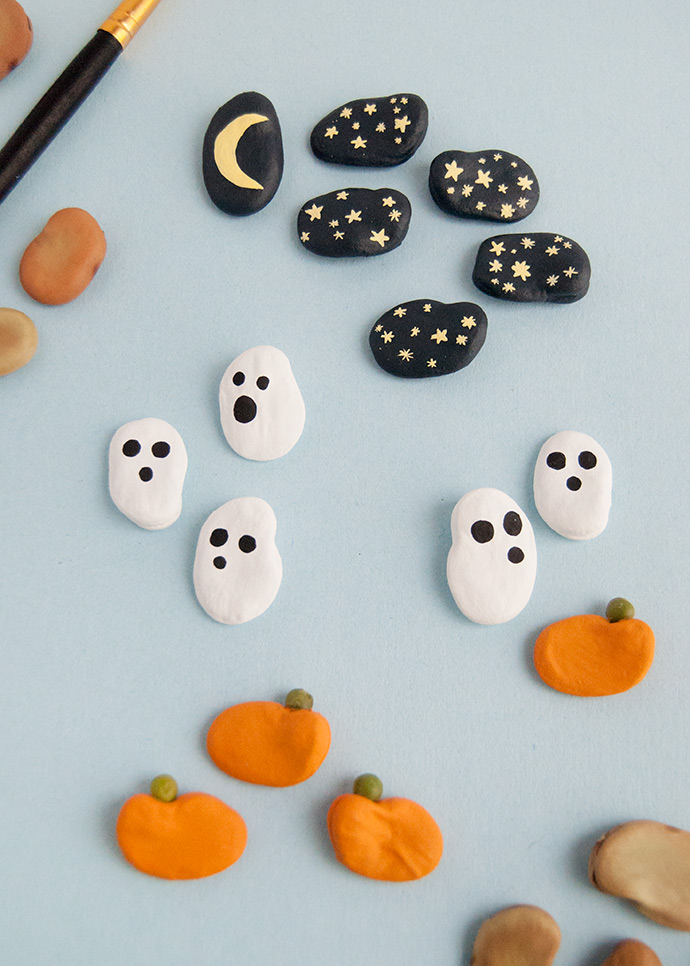 Painted Halloween Beans
So you'll most likely not find beans ready to craft with on your next hike, but they are a natural material so we wanted to include them! Plus, this idea can easily be applied to rocks if you don't have any giant fava beans in your pantry.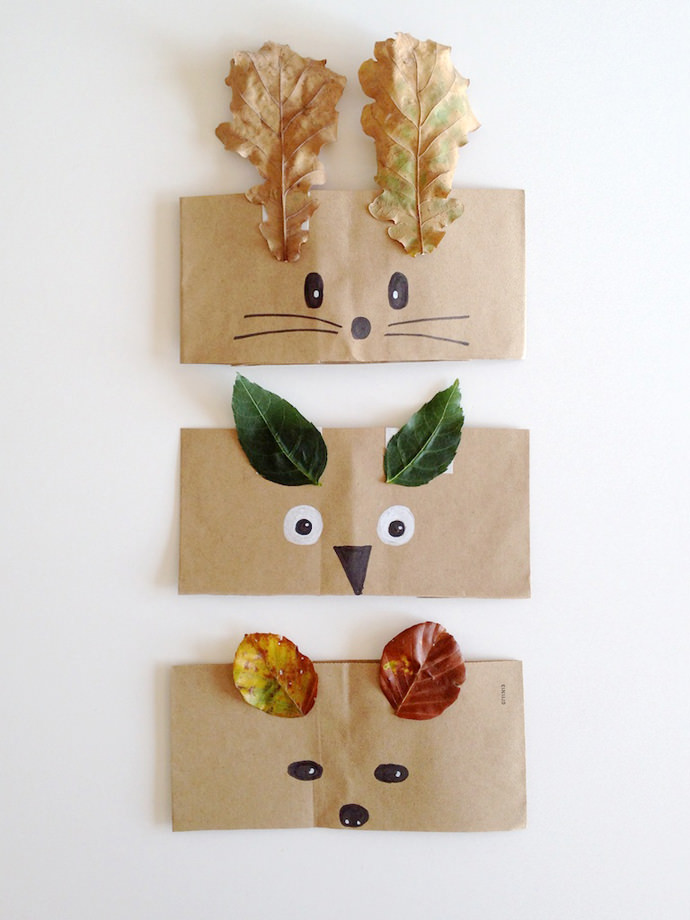 DIY Leaf Crowns and Masks
These forest friends headbands are such a fun addition to your Halloween costume this year! Draw simple animal faces onto craft paper loops and then head outside and search for two leaves with the right shape. Rabbits, owls, and bears are all fun options!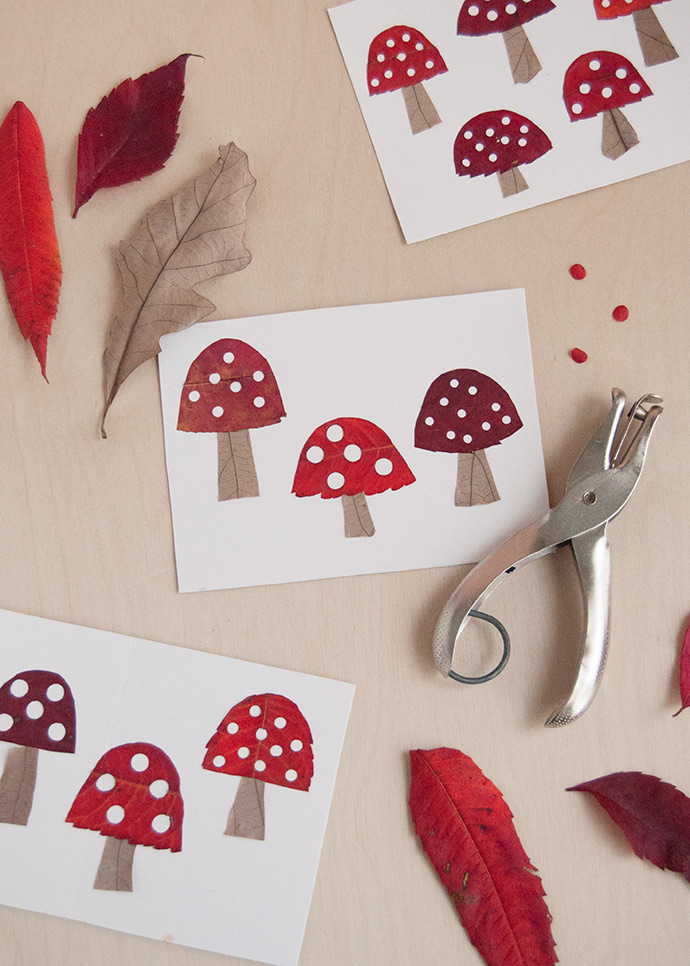 Mushroom Leaf Art
Vibrant red leaves are just perfect for making these simple toadstools. They are so easy to make and a hole punch makes the white polka dots. Make these as a fun art project on paper, decoupage onto a pumpkin, or even stick them to clear contact paper as suncatchers.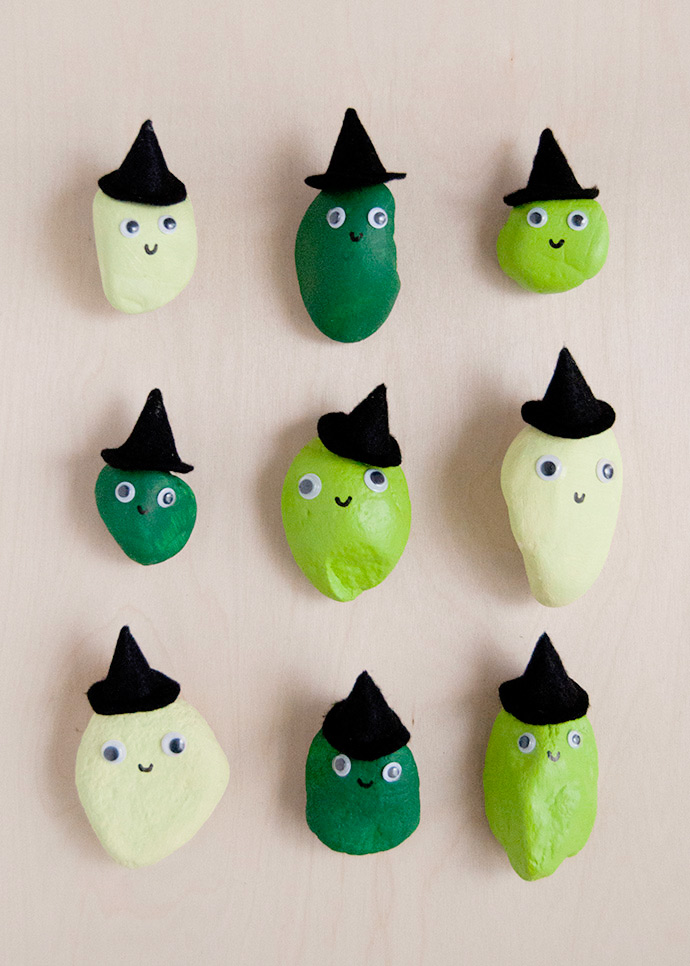 Painted Rocks for Halloween
Painted rocks don't have to be a summer craft! These painted rock witches are simple and cute – just paint some rocks green, draw on faces, and craft miniature witch hats from felt as a final touch.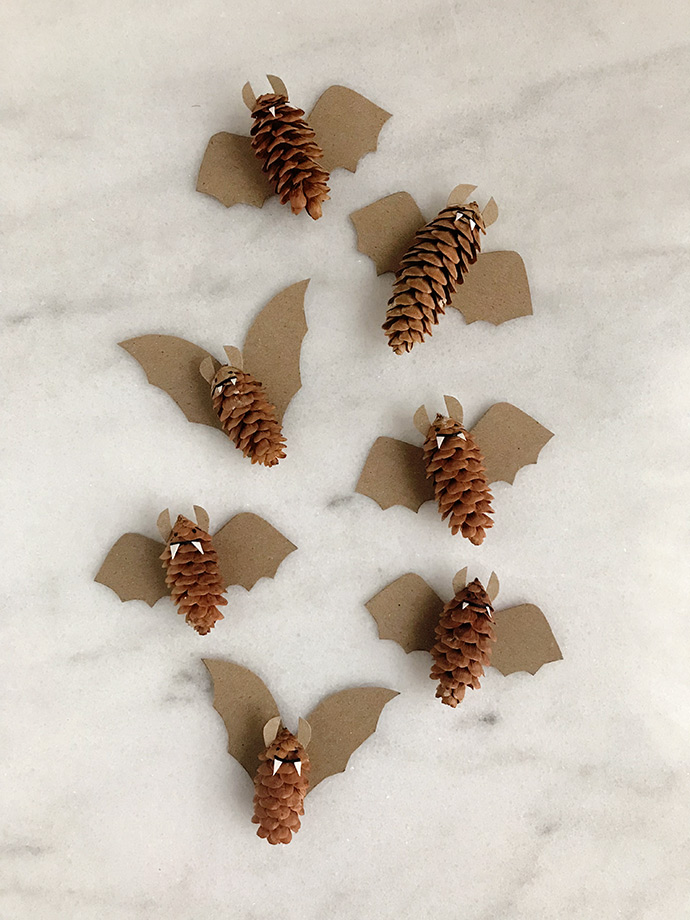 Pinecone Bats
Is it possible for something to be creepy and cute at the same time? These pinecone bats might just be both! Gather up pinecones and turn them into these bats with upcycled cereal box cardboard.