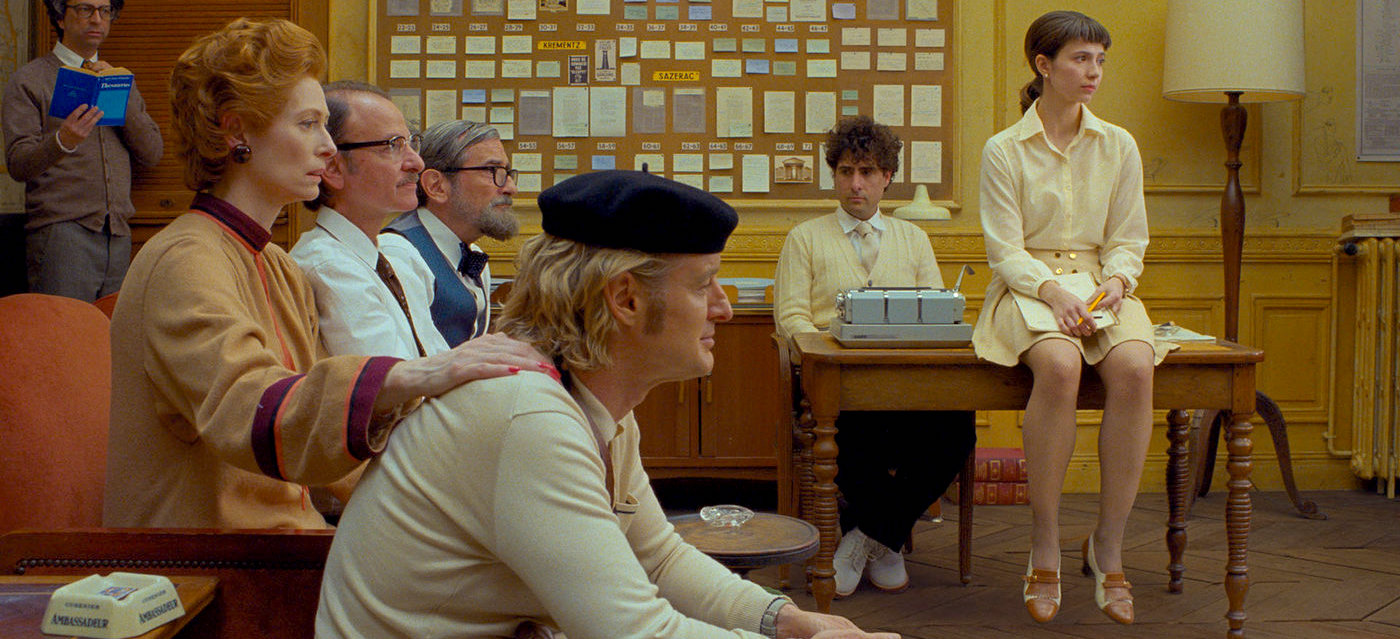 Wes Anderson's The French Dispatch is probably what you'd call an anthology film—which is to say it's a compendium of several mini-films, unrelated topically but all connected somehow—but it also might not even be what you'd call a film at all. I'm not sure. We'll think on this together in a moment.
The movie chronicles the creation of the final issue of a magazine, "The French Dispatch of the Liberty, Kansas Evening Sun," the arts and culture supplement of a large midwestern-American newspaper which has, for decades, presented to its readers some of the world's most interesting phenomena. Following the death of its gruff Editor-in-Chief (Bill Murray), the magazine, which is based out of a city in France called Ennui-sur-Blasé and staffed with crackerjack expat-American writers, must fold. And so its staffers do what they must to finish the latest issue. This isn't the whole story, though—merely the frame. Most of what the film does, actually, is render the magazine itself, bringing to life the stories prepared for this final issue's pages.
More than simply acting out these narratives, though, The French Dispatch flips back and forth between the telling of the stories themselves and representing their writing (as well as editing) processes—literally and also via formal tricks and multimedia experiments. J.K.L. Berensen (Tilda Swinton) narrates her article via a slideshow presentation presumably conducted after the article is published; the story narrated by Lucinda Krementz (Frances McDormand) pauses for a tangent so we can watch a scene from a play that one of her characters will write years later. And Roebuck Wright (Jeffrey Wright) recites his own piece for this issue twenty-some-odd-years later while on a talk show (his recollection and recitation are flawless because he is endowed with a "typographical memory," which is like a photographic memory but only for printed words). His story also features 2-D animation courtesy of the comic book that was also written about his subject matter. Notably, though, the scenes representing the articles themselves are filmed in black in white, as if imitating the printed pages of the magazine, while the other ancillary matter is rendered in Anderson's famously color-coordinated palettes.
Anderson's oeuvre has long posed new and interesting questions about how much a film can be "read."
This is not the first time Anderson has played with the relationship between films and (for lack of a better all-encompassing term) "books" or tinkered with the possibilities of paratextual matter. The Royal Tenenbaums opens with a shot of a library book called The Royal Tenenbaums being checked out and read—it's thoroughly narrated and even features intertitles bearing chapter information. The Grand Budapest Hotel doubles down on such a conceit—opening on an image of a young woman holding the book The Grand Budapest Hotel in front of a statue of its author, then cutting to a few words by that author, then introducing the fictional narrator, and then introducing a character who tells the narrator the tale at hand. And who can forget Fantastic Mr. Fox, beginning with an image of a library-copy of Roald Dahl's eponymous source text (from which the film naturally deviates)?
Indeed, the overarching gambit of these films is to suggest that they themselves are somehow books—or rather, maybe, are the mind's-eye images that one would experience, if one could read those books. As such, Anderson's oeuvre has long posed new and interesting questions about how much a film can be "read." More than that his mise-en-scene features meticulously detailed, diorama-like images ripe for examination and analysis, his body of work demands that you interact with words as well as images—as if you're reading a picture book, you as a viewer are prompted to imagine the story for yourself as well as see it rendered by someone else. Anderson has flirted with these implications, not stepping too far outside the realm of creative subtitles and chapter markers (one of the most innovative parts of The Royal Tenenbaums is seeing snippets of the printed pages that its narrator is reading out loud).
Knowing this, and that Anderson had been inspired to make The French Dispatch due to his enduring love for The New Yorker, I sort of figured that The French Dispatch would further serve as a vehicle for his literary preoccupations: completely, directly attempting to capture the form as well as the essence of an actual printed text—in this case, a magazine issue. Plus, since the film is set in "France," and would realistically feature actors speaking French, I assumed that viewers might have to do quite a bit of literal reading themselves.
All this is true, and yes, The French Dispatch succeeds in producing the cinematic equivalent of an actual magazine. In addition to recounting feats of longform journalism, it is stuffed with the kind of miscellany you'd expect to find in something like The New Yorker: illustrations, especially cartoons, section breaks, page numbers, amusing covers. And celebrity cameos. Also, ads! But even more than that, The French Dispatch clearly represents itself as having an entire cultural world beyond its pages. This is why its inclusion of ancillary matter is so significant—these article-topics, their writers, and their characters all have their own afterlives that lead to, inevitably, other texts.
Yes, The French Dispatch succeeds in producing the cinematic equivalent of an actual magazine.
But the most fascinating thing about The French Dispatch is not even its investment in what it means to read a film. I was surprised, when watching it, how much of the journalism at hand—both the researching and telling of the stories—is represented as theater. This is signaled early on in the film, in the "Local Color" section, in which a bicycle-riding correspondent named Herbsaint Sazerac (Owen Wilson) takes the viewers around the city of Ennui-sur-Blasé. He speaks directly to the camera, and it follows him as he rides his bicycle in front of screens, pulls curtains to switch off lights in the sets behind him, or as he gestures to certain objects while perfectly framed in the rectangle of the camera.
This is the mode of Anderson's work we probably all know best: an art-direction-heavy vision featuring painstaking miniatures and symmetrically-dressed proscenia (lest we forget Rushmore). This recalls just how much theater and performance are stressed in his oeuvre; from Bob Balaban's toggle-coat-clad Bard of Moonrise Kingdom to Bill Murray's raconteur-submarine explorer Steve Zissou in The Life Aquatic, who both tell stories, rather than read them.
Indeed, following in these footsteps, The French Dispatch seems to wonder about the relationship between film and fiction, as it does about the relationship to performance and nonfiction—or really, maybe, the massive overlap between all forms of storytelling, in general. The film is imbued with a particular spirit of community, but also dramatically cheers on the toppling of fascist structures.
The three main stories —"The Concrete Masterpiece" by J.K.L. Berensen, "Revisions to a Manifesto" by Lucinda Krementz, and "The Private Dining Room of the Police Commissioner" by Roebuck Wright—are respectively about an incarcerated murderer who is a genius painter, protests by the students of the local university, and the secret world of "police cooking." But every single article frames artistic rebellion in the middle of an otherwise oppressive, rulekeeping space. I'm not saying that The French Dispatch abolishes the police or anything like that, but that both structurally and thematically it is about the breaking down of distinctions which circumscribe its subjects into limited, repressed roles and categories.
The literary scholar D.A. Miller made a similar point in his influential monograph on the Victorian novel, The Novel and the Police, analyzing the ways in which "Victorian novels" became disseminators of oppressive classifications, enforcing rigid distinctions that kept readers in line, so to speak. For all that the aesthetics of Anderson's oeuvre might initially seem authoritarian for their exacting and pervasive stillness, precision, and even deadpan-ness, they are also invested in breaking down systematizations. "The kids did this," writes Lucinda Krementz in her story. "Obliterated a thousand years of Republican authority in less than a fortnight. What do they want? Freedom. Full stop."
Rather than muse on what texts can be read or not, it places a limitlessness on the definition of text, itself.
The French Dispatch brings an anarchic and passionate lilt to this tendency; rather than muse on what texts can be read or not, it places a limitlessness on the definition of text, itself. Is Roebuck Wright, in his ability to perfectly recall everything he has ever written, a text just as much as the manifesto written by the student Zeffirelli (Timothee Chalamet)? Yes, the film decides, he is.
In its happy melange of genres and media, The French Dispatch upholds one glowing category of "storytelling"—stuffing in as much appreciation of as many different kinds as might be possible in either a magazine issue, or an hour-and-forty-eight-minute film. If The French Dispatch reveres any genre, though, or any medium as a paragon, it is "the magazine"—even though, by his making a film, Anderson's answer to such a question might naturally seem to be "film". (At the very least, the magazine is the original prototype for such freedom, which he has since chased in his resulting films.)
With The French Dispatch, Anderson positions himself as a pupil of The New Yorker, and his entire oeuvre as having been instructed by it. In a magazine, Anderson seems to stress—a magazine like The New Yorker or like The French Dispatch—storytelling does not have to be any one thing. In fact, that seems frowned upon: the more varied, the better, or else it won't make for very good reading, will it?