Most people are looking for cleaver ideas to make their spaces more organized and function better. These new and simple organizing ideas we feel are essential in saving tons of time and finding extra space in thekitchen! Check out the new storage solutions that are available for your kitchen remodel.
BASE CABINET ORGANIZATION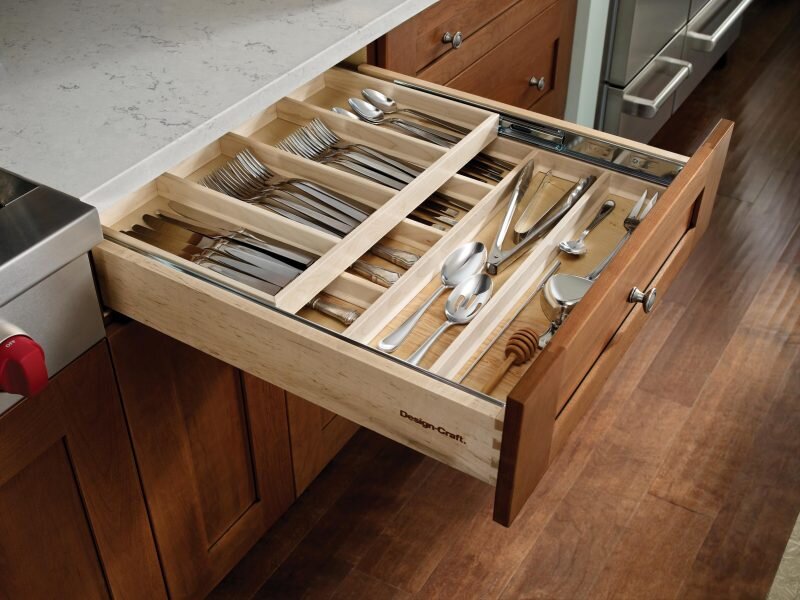 Cutlery Organizer
Kitchen drawer organizers are perfect way to store your cutlery
Coffee Station K- Cup Organizer
Searching through the cabinet for your favorite coffee before you're caffeinated can feel, well ... exhausting.
Pot and Pan Organizers
Who doesnt get frustrated while looking for a lid, well no more with these dividers that problem is solved.
Blind Corner Pullout
Get off your knees this pullout will make those corners in your kitchen function so much better.
WALL CABINET ORGANIZATION
We have been searching for years now for great wall cabinet pull out options. Well finally we are have some great options see the pictures of the NEW products that are available.
Pull-Down Organizer w/ Gas Assisted Spring
Above Appliance Swing Out Organizer
One of the more in-depth products on our list, is an organizer that works perfectly over the oven or fridge. It can be side mounted to either the left or right side of the cabinet wall.
CLEAN UP ORGANIZATION
The Ultimate Trash Recycle Pullout
store your shopping bags too
Sink Caddy
Make the most of your sink cabinet and add a spill mat and a pullout sink caddy. Make clean up a breeze.
Hidden walk in pantry
The extra large walk-in pantry is accessed directly from the kitchen behind what appear to be broom closet or cabinet pantry doors. Keep in mind you need more floor space to create a hidden pantry.
Planning your ideal kitchen? Contact us by clicking the button below to start designing for kitchen .
Start Designing