When it's too hot to turn on the oven, these no-bake cheesecakes come to the rescue. Creamy, dreamy, and decadent, they're the perfect dessert for hot summer days when you don't want to heat up your kitchen or for the holidays when you're crazy busy and just want something that tastes amazing.
You'll find a wide variety of easy no bake cheesecake recipes to suit your taste buds. From fruity desserts to luscious and rich varieties, we've got you covered. Looking for a winning holiday dessert to take to Thanksgiving dinner or a Christmas party? We've covered those, too.
Make one of these no-bake goodies today. Dessert has never been easier.
What Is No-Bake Cheesecake Filling Made Of?
Usually, no-bake cheesecake filling is a combination of a few simple ingredients:
cream cheese or similar soft cheese
heavy cream or half and half
granulated sugar or powdered sugar (also known as confectioners' sugar)
sour cream (for tanginess)
flavor extract (like vanilla, peppermint, or lemon extracts) but sometimes gelatin is used for flavor instead
Small bits of candy, cookies, nuts, or fruit may be added for flavor and texture.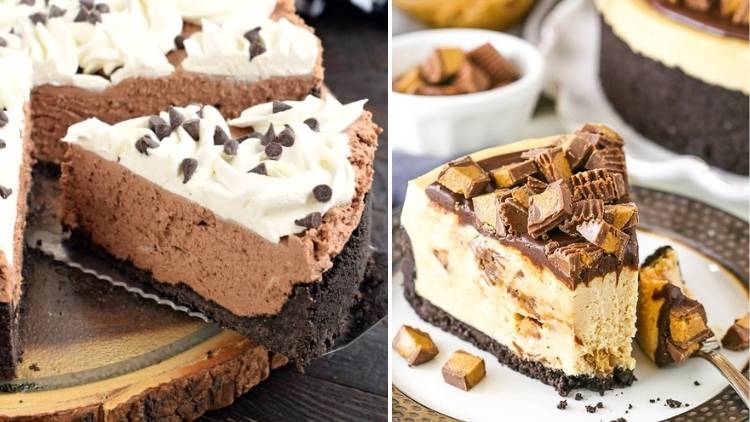 Can No-Bake Cheesecake Be Frozen?
Yes, you can freeze most no-bake cheesecakes after they've set up in the refrigerator. Wrap the cheesecake in plastic wrap, followed by a layer of aluminum foil. It'll keep in the freezer for 3 months. Thaw completely in the refrigerator before serving.
How Do You Make No-Bake Cheesecake?
To make a no-bake cheesecake, you need two or three layers. The first is the crust—usually a graham cracker crust, but it can be made from other types of cookies as well. Some low carb cheesecakes skip the crust altogether.
The second layer is the filling. As mentioned above, it's often a combination of cream cheese or another similar cheese, sugar, heavy cream, and flavor extract.
Finally, some cheesecakes have a topping layer. This may be as simple as whipped cream or as decadent as a layer of caramel and nuts or chocolate sauce or a layer of fresh fruit.
To get started on a delicious no-bake cheesecake today, try one of the yummy recipes below. No oven required!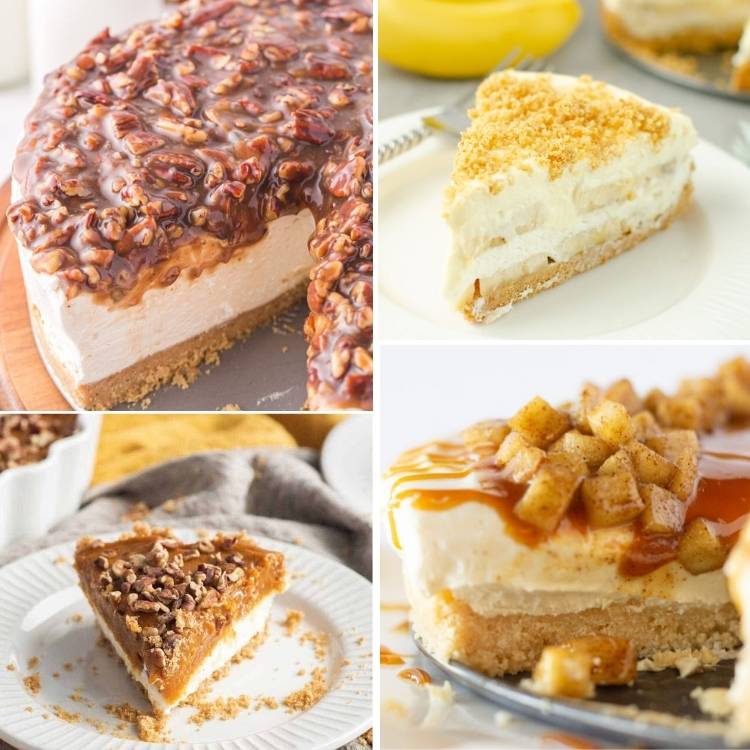 Fruity No-Bake Cheesecakes
If fruity flavors are your thing, you'll love these fruity cheesecakes for spring and summer. Check out our other no-bake summer desserts, too!
Creamy Peach Cheesecake
There's nothing better in the summer than a fresh, juicy peach. But what if you want to enjoy that fruity taste when the weather isn't exactly warm and sunny?
It's no problem with this creamy peach cheesecake from Love Bakes Good Cakes. It's made with peach gelatin to give it that summertime flavor you can enjoy any day of the year.
Cherry Cheesecake
A classic cheesecake, this no-bake cherry cheesecake is always a crowd-pleaser. You can also try it with blueberries instead of cherry pie filling for a fun change of pace.
Full-fat, low-fat, and fat-free cream cheese all work well in this recipe from Spaceships and Laser Beams while maintaining a delicious flavor.
Orange Creamsicle Cheesecake
Feel like a kid again with this dreamy orange creamsicle cheesecake from Love Bakes Good Cakes. Whip it up on a hot summer's day to be transported back to your childhood chasing after the ice cream truck.
This yummy sweet treat has a crust made with vanilla wafers and gets its flavor from orange Jell-O and vanilla extract.
Strawberry Cheesecake
Made with tasty strawberry cream cheese filling and a buttery graham cracker crust, this no-bake strawberry cheesecake will become one of your favorite cheesecake recipes.
Make this recipe from Veronika's Kitchen after a visit to the strawberry patch or the local farmer's market when strawberries are at their peak. Yum!
Lemon Cheesecake
Lemon juice and zest give this no-bake lemon cheesecake a refreshing fruity flavor in every slice.
The Recipe Rebel recommends starting with cream cheese at room temperature to make sure the cheesecake is smooth with no lumps. Good advice!
It's light, fluffy, and perfect for your spring or summer get-togethers.
Fruity Pebbles Cheesecake
Okay, so this no-bake cheesecake recipe isn't made with fruit, but it does have a fruity flavor. That counts, right?
Kids will love this Fruity Pebbles cheesecake loaded with the famous cereal folded throughout the cheesecake mixture and a yummy Nilla Wafer crust to sweeten the deal. Try the recipe from Beyond Frosting and see what your family thinks!
Raspberry Lemon Cheesecake
Sweet and slightly tart, this raspberry lemon cheesecake from The Busy Baker is as pretty as it is delicious. It's creamy, smooth, and perfect for a hot summer day.
Top with a dollop of whipped cream, fresh berries, and a sprinkle of lemon zest for a real show-stopping sweet treat.
Blueberry Cheesecake
The perfect potluck dessert, this no-bake blueberry cheesecake is an absolute dream. You can use canned or homemade blueberry pie filling, so even if it's not blueberry season, you can still enjoy this yummy confection.
Make this a couple of days ahead of time by preparing the cream cheese mixture in the crust first and topping with the blueberry pie filling the day you'll be eating it.
Key Lime Cheesecake
Get loads of fresh lime flavor in this creamy, luscious no-bake key lime cheesecake from The Busy Baker.
Make sure you whip your topping to stiff peaks; otherwise, the whipped cream will be too liquified and will prevent the cheesecake from setting up. To get really clean slices, let it chill for at least 6-8 hours before serving.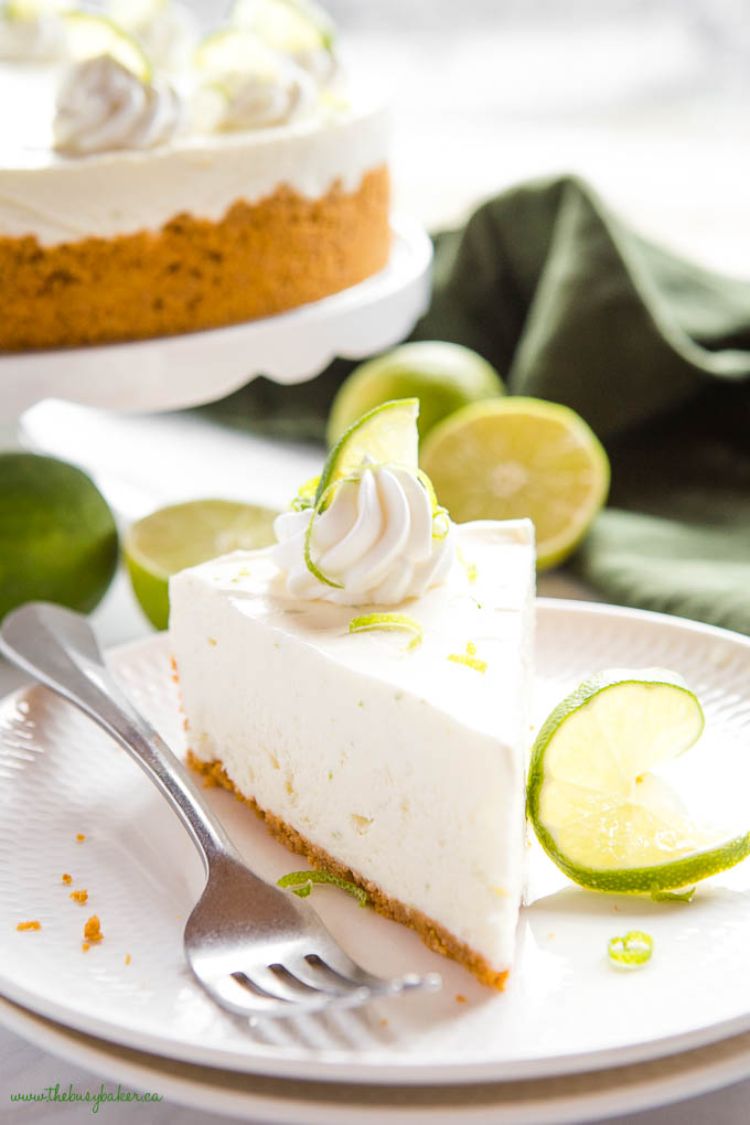 Banana Cream Cheesecake
If you're a banana pudding aficionado, this banana cream cheesecake from Fake Ginger needs to be in your dessert rotation. With layers of cheesecake, banana pudding, and sliced bananas, you can't beat this cool, creamy dessert.
Decadent Cheesecakes – No Baking Required
These no bake cheesecake recipes are more on the decadent side. Chocolate, caramel, peanut butter — all the rich and sweet flavors you know and love.
No Bake Oreo Cheesecake
Here's a kid-friendly dessert that'll disappear in no time. This no-bake Oreo cheesecake from Tastes of Lizzy T has that classic cookies and cream flavor, and no one will know that you didn't spend tons of time on it.
It's perfect for potlucks and picnics!
Caramel Pecan Cheesecake
Rich and decadent, this caramel pecan cheesecake tastes like a candy bar and is super easy to make. With a graham cracker crust, creamy cheesecake filling, and a caramel sauce topping with chopped pecans, every mouthful is delightful.
Reese's Peanut Butter Cheesecake
Peanut butter lovers, rejoice! Life, Love and Sugar's no-bake Reese's peanut butter cheesecake is the sweet dish dreams are made of.
It has an Oreo cookie crust and a delicious peanut buttery cream cheese filling. You'll fold in some chopped mini Reese's and add some on top, too.
Chocolate Cheesecake
Chocoholics won't be able to put the fork down when it comes to this yummy no-bake chocolate cheesecake from Shugary Sweets.
It's terrific with the basic recipe, but you can kick the sugar factor up a notch by adding your favorite chocolate candies on top. Pour the decadent, delicious filling into a prepared crust made from Oreo cookies and top with homemade whipped cream.
Oatmeal Cream Pie Cheesecake
Are oatmeal cakes your weakness? I can totally relate. This rich oatmeal cream pie cheesecake from Kitchen Fun with My Three Sons is absolutely drool-worthy.
The filling is made with powdered sugar, cream cheese, half and half, lemon juice, and cheesecake flavored pudding mix. Halved oatmeal cream pies surround the cheesecake with even more crumbles on top.
Funfetti Cheesecake
Looking for a non-traditional dessert for a birthday party? Ditch the usual cake for a funfetti cheesecake instead.
This no-bake version from Sew White is easy to put together and looks just as beautiful as any birthday dessert. Plus, it's easy to adapt to any birthday theme by simply swapping out the sprinkles for colors that match your party theme.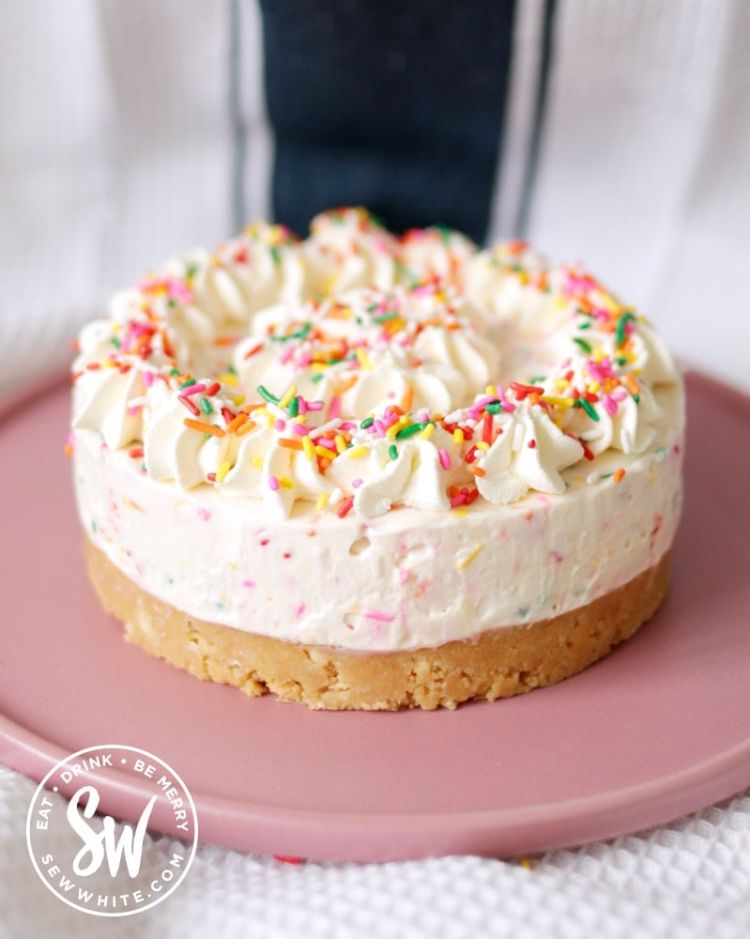 No-Bake Cheesecakes for the Holidays
Thanksgiving and Christmas are busy times of the year for everyone. Why make it more complicated than it has to be? These easy Thanksgiving desserts are total show-stoppers without much effort.
Peppermint Cheesecake
For an easy Christmas dessert the whole family will love, you can't beat this no-bake peppermint cheesecake from Cincy Shopper. I've made this one personally several times now to give to neighbors or to take to a holiday potluck.
It has loads of flavor without being overly minty and is deliciously refreshing with a tall glass of milk or a hot cup of coffee.
Pumpkin Pie Cheesecake
Combine two popular holiday desserts — pumpkin pie and cheesecake — into a sweet treat that'll be the star of your Thanksgiving meal. Great for preparing a day or two in advance, this pumpkin pie no bake cheesecake recipe from Simply Stacie will save you time in the kitchen.
You'll love these other no-bake pumpkin desserts, too.
Eggnog Cheesecake
Get the flavor of your favorite holiday drink in a luscious, creamy no-bake eggnog cheesecake. Your holiday guests will be begging for the recipe! Even those who don't enjoy eggnog will still love this decadent dessert. You'll need:
graham cracker crumbs
butter
brown sugar
cream cheese
sugar
eggnog
rum extract
nutmeg and cinnamon
heavy whipping cream.
Pretty simple stuff, right? Go to Cincy Shopper for the recipe — you won't regret it.
Pecan Pie Cheesecake
Velvet, creamy cheesecake filling and a sweet nutty topping make for a fantastic pecan pie cheesecake that will become your go-to for Thanksgiving or Christmas. No one will believe that this recipe from Princess Pinky Girl is no bake!
Caramel Apple Cheesecake
Caramel apples are one of the best things about fall, particularly if you're not really into all the pumpkin spice flavors. This caramel apple cheesecake from Practically Homemade is where apple pie meets a delightful cheesecake. It's the best of both worlds.
The caramel layer really makes this dish, but the melted butter and shortbread cookie crust is a close second.
We hope you've found an incredible no bake cheesecake recipe for your next dessert. Pin this post to try them all!
More Mouthwatering Cheesecake Recipes:
This strawberry dessert lasagna is perfect for parties, especially in the summer. Change out the Jell-O flavor for any holiday or occasion!
White chocolate raspberry cheesecake bars are super decadent. You'll love the combo of raspberries, chocolate, and cheesecake together in an easy-to-serve bar.
Whether they're in jars, bars, or mini versions, you can never have too many sweet cheesecake recipes.
The post 21 Secretly Simple No-Bake Cheesecakes appeared first on DIY House Hacks - One Crazy House.