This 30-Minute One Pot Lasagna Soup is the best way to enjoy all the flavors of lasagna without any of the assembly plus you can freeze the leftovers!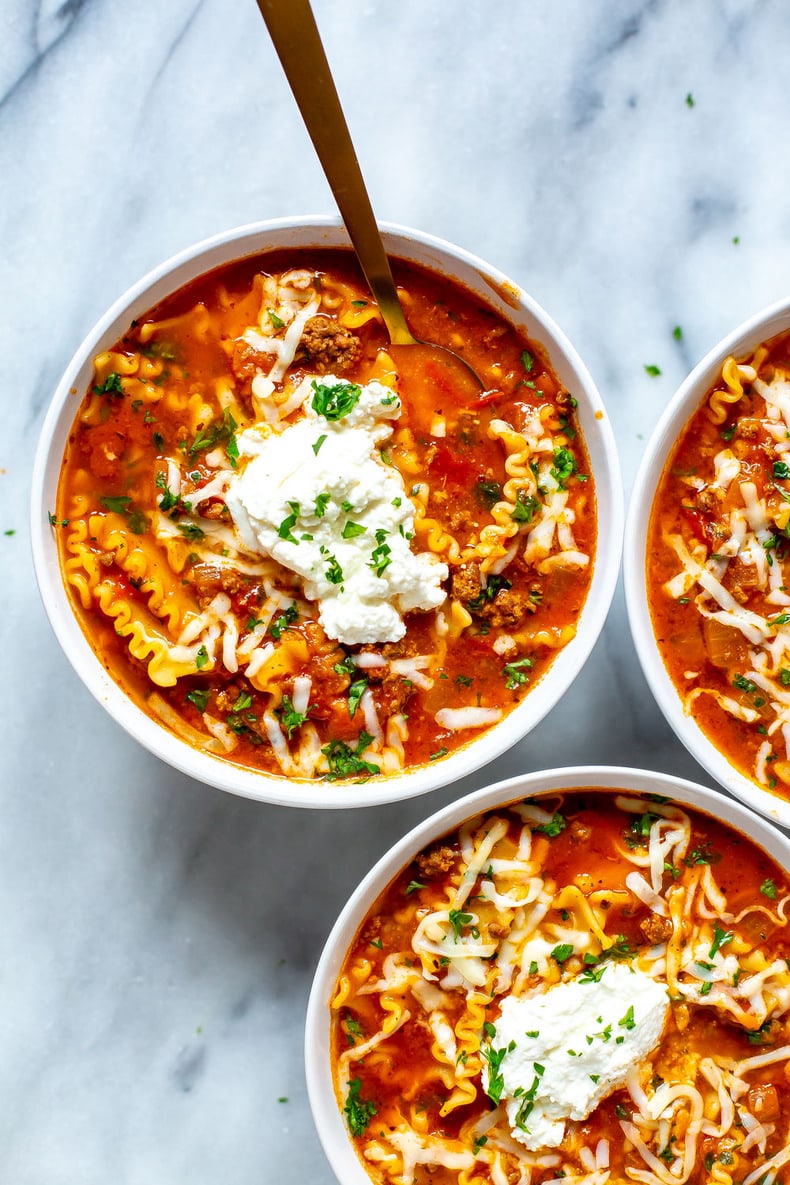 Ingredients in lasagna soup
This ingredient list will look familiar. Youll get all the amazing tastes of lasagna in soup form. No assembly required! Here's what you need:
Extra lean ground beef (This is at least 96% lean and at most 4% fat. You dont need the extra fat in soup. In fact, you dont want to have to drain the fat off so stick with this extra lean version of ground beef)
Onions
Garlic
Italian seasoning
Marinara sauce
Beef broth
Pasta
Ricotta cheese
Mozzarella cheese
How to make lasagna soup
This is a 30 minute one-pot meal. Its great for a weeknight and so much faster than making a tray of lasagna. Here's how to make it:
Brown the ground beef in the soup pot you'll use the little fat from the beef to keep it from sticking to the pot instead of adding any olive oil. This way you also don't need to drain the fat.
Add onions and garlic once beef is browned slightly.
Add all the other ingredients except cheeses.
Simmer for 20 minutes or until the pasta is fully cooked.
Top bowls of lasagna soup with ricotta and mozzarella cheeses and fresh herbs.
Making it in the Instant Pot
If you want to make this lasagna soup dish even quicker, you can use your Instant Pot. It's still a one-pot meal too!
Use the saute setting on the Instant Pot to brown the ground beef, onions and garlic.
Add all of the ingredients except the cheese. Make sure that the noodles are completely submerged in the broth.
Set the Instant Pot to cook on high pressure for five minutes. If you use a thinner pasta than mafalda or rotini, you will need less time. If you cook pasta under pressure for too long it will disintegrate.
Do a quick release. You want to stop the cooking process immediately so the pasta does not over cook.
Serve with cheese and herbs.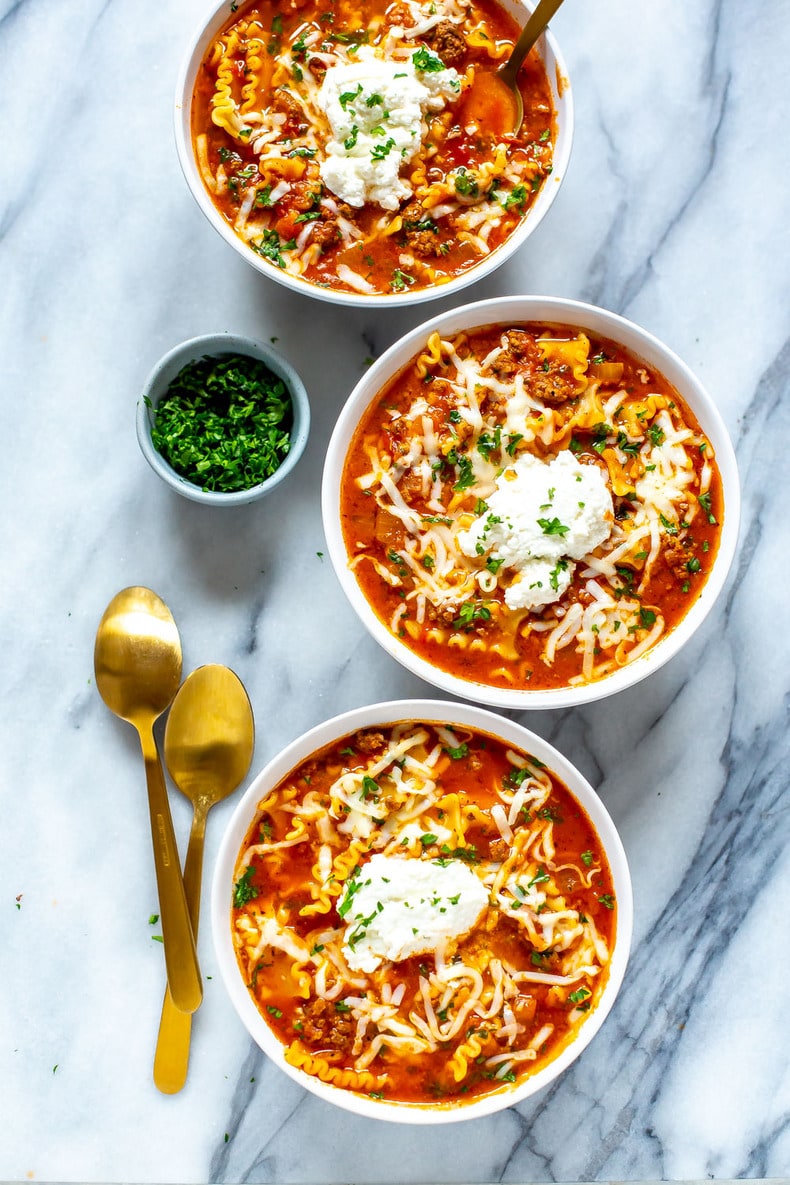 Making it in the slow cooker
Another option for making this lasagna soup is to prepare it in the morning and let it cook all day in the slow cooker. When you come home in the evening, your hot meal will be ready.
Brown the meat on the stove top with the onions and garlic. While it will cook completely to a safe temperature if you skip this step, the taste and texture is much better if you take a few minutes to brown the meat separately.
Add everything but the pasta and cheeses in the slow cooker.
Cook on low for 8 hours or on high for 4 hours. In the last half hour of cook time, add your pasta.
Serve with cheeses and fresh herbs and enjoy!
Ingredient substitutions
Its easy to swap any kind of ground meat for ground beef. Ground chicken, turkey or pork would also work well in this lasagna soup.
You can use other kinds of noodles, including broken up lasagna noodles. I use malfalda pasta in this recipe, which you can purchase on Amazon if you can't find it in stores. If you do use other types of pasta, just remember that thin noodles will not take as long to cook. Once noodles are overcooked, they tend to get mushy and start to disintegrate into the broth. Adjust your cooking time if you use a different type.
For subtle differences in taste, try marinara sauces will other ingredients. You can find options at the store that include garlic, roasted tomatoes, vegetables and more. If you like it with extra protein, you can get a sauce with meat or add soup beans.
You can sneak some extra veggies into this dish too. Carrots, celery and spinach or kale compliment the flavors well.
You can also change up the seasonings in this lasagna soup. Ideas of spices you can add that will boost the flavor are:
Fennel seeds
Red pepper flakes
Oregano
Balsamic vinegar or red wine
What to serve with lasagna soup
This soup has a little bit of everything starches in the pasta, protein in the meat and veggies in the marinara sauce. Some great side dishes that will compliment your lasagna soup are:
Green salad
Italian bread or garlic bread
Antipasto platter
Roasted veggies
Bruschetta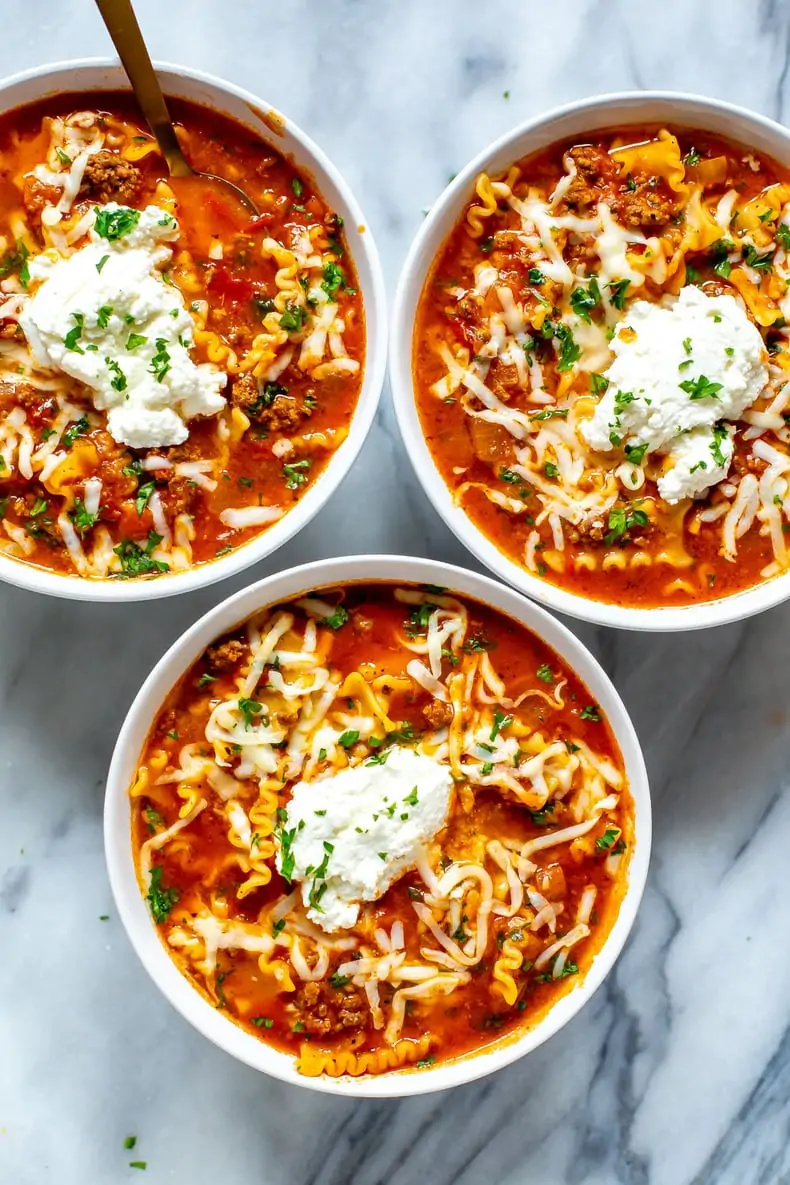 Storing and reheating
Lasagna soup can be stored in the refrigerator for four to five days. This means that you can eat the leftovers or even use this recipe for meal prep.
Just store it in serving size containers and your lunch will be ready to go.
To reheat a single serving, you can put it in the microwave for a minute or two. The noodles will continue to soak up the broth while stored. You may want to add a splash of broth or water while reheating.
Freezing lasagna soup
You can freeze any leftovers if you wont eat them in the next few days. Lasagna soup will last in the freezer for three months.
If you want to prepare this as a freezer meal, you can brown the meat and then put everything but the noodles and broth into a freezer safe bag. When you are ready to cook it, dump the bag into your pot, add the noodles and broth and simmer until the noodles are cooked.
MORE COZY SOUP RECIPES
Meal prep tools for this recipe
Meal prep challenge
If you'd like some more help with meal planning, then you'll love my free 5-day meal prep challenge! It's basically a free course that will teach you how to meal prep and cook healthy meals at home with some PDF bonus materials. Sign up for free below:
30-Minute One Pot Lasagna Soup
This 30-Minute One Pot Lasagna Soup is the best way to enjoy all the flavors of lasagna without any of the assembly plus you can freeze the leftovers!
1 lb extra-lean ground beef
2 onions, diced
2 cloves garlic, minced
1 tsp Italian seasoning
1/2 tsp each salt & pepper
1 (650mL) jar marinara sauce
4 cups beef broth
2 cups dried mafalda pasta (or rotini)
1/2 cup ricotta cheese
1/2 cup mozzarella cheese
Fresh parsley or basil, for garnish
Saute ground beef in a large pot over med-high heat until browned, about 5 minutes. Add onions and garlic, sauteeing another 2-3 minutes until fragrant.

Add remaining ingredients except for cheeses and fresh herbs, stirring to combine then bringing to a boil. Place lid on pot and simmer for 20 minutes until pasta is cooked through.

Serve soup in large bowls, sprinkling mozzarella cheese overtop and topping with a dollop of ricotta. Garnish with fresh herbs if desired, then serve and enjoy!
The post 30-Minute One Pot Lasagna Soup appeared first on The Girl on Bloor.