This easy Shepherds Pie recipe is made of ground beef, veggies, and corn in a delicious gravy topped with mashed potatoes that after cooking become slightly crisp when broiled.
Who can resist comfort food that will warm you up from the inside out on a cold winters day? Its just the meat and potatoes dish your family will ask for again and again.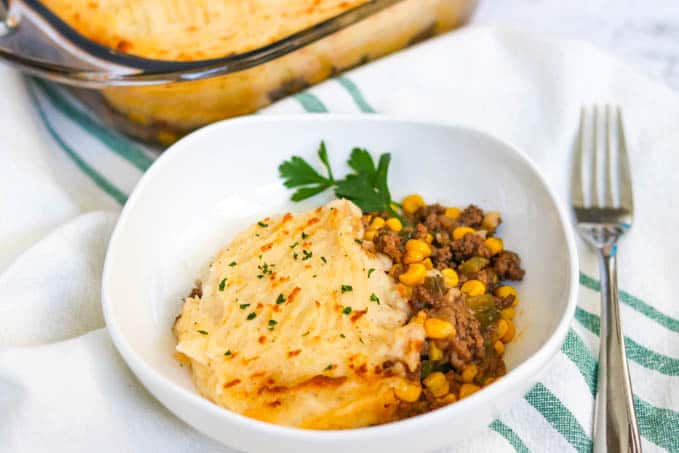 Welcome to down home cooking at its finest, folks and it doesnt get much better than this!
I am proud to be partnering with Iowa Corn and Iowa Beef to bring you this sponsored post and share more with you about corn. As always, all opinions are 100% my own.
This recipe quickly became a family favorite when I first made it way back when our kids were little.
I loved it because it was so easy to put together. Over the years Ive made various changes to it making it even better and consequently blog worthy.
And you know what?
Believe me when I say that it tastes even better the next day. The flavors have a chance to party together and consequently, your taste buds will be eternally grateful.
SAVE THIS RECIPE FOR SHEPHERDS PIE TO YOUR FAVORITE PINTEREST BOARD!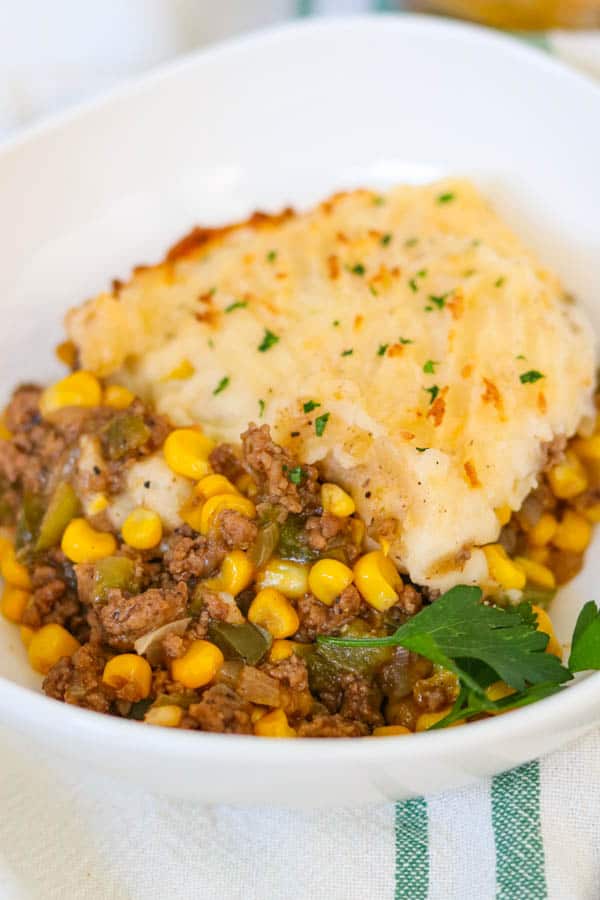 What is Shepherds Pie?
This popular recipe originated in Ireland in the late 1700s to early 1800s. During a time when housewives were frugal (though doesnt that still ring true today as well?), they looked for a good way of putting leftovers on the table and thus history was made.
Typically, the traditional Irish version of a Shepherds Pie contains a different animal protein where as their Cottage Pie contains beef.
Here in the United States though were more likely to make this recipe with beef, hence why its enjoyed by so many.
Whatever you decide to call it, this hearty casserole will undoubtably become a family favorite, appearing regularly on your menu just as it does on ours.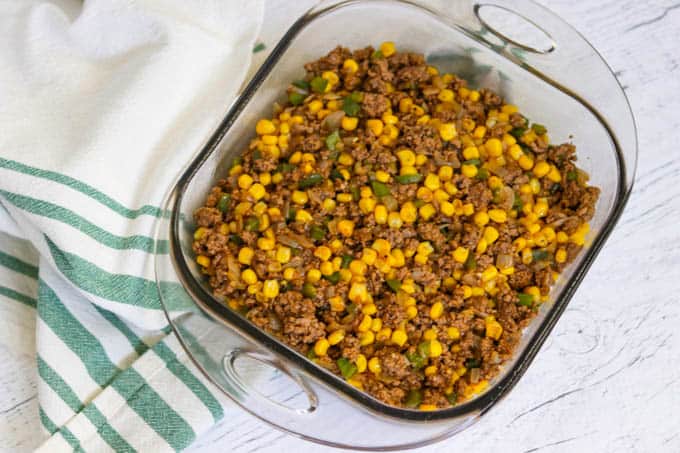 How do you know if the beef you purchase is grain-fed?
You actually wont. The only labels you will see is if the cattle has been grass-fed. The reason being is that most beef is from cattle that are grain-fed, so therefore wont have a specific label identifying them.
One of the things I learned on my recent farm tour with Iowa Corn was that all cattle, including grain-fed cattle, spend the majority of their lives eating grass. then 11% of their lives or 4-6 months in a feedyard. In addition to a specific corn mixture, they are also given a balanced diet which may consist of potato hulls, sugar beets, hay or forage.
All cattle may or may not be given FDA-approved antibiotics to treat, prevent or control disease and/or growth preventing hormones. Rest assured that ALL of the farmers Ive spoken with who raise cattle and pigs will NOT give their livestock any antibiotics unless it is absolutely necessary.
As with our children, we dont administer medication unless it is warranted. It wouldnt be in the best interest of the farmer to do so either.
All farmers adhere to strict rules ensuring that no antibiotics are in an animals system before it is prepared for human consumption.
Without question, they want to provide consumers with the best products possible while keeping their farms sustainable.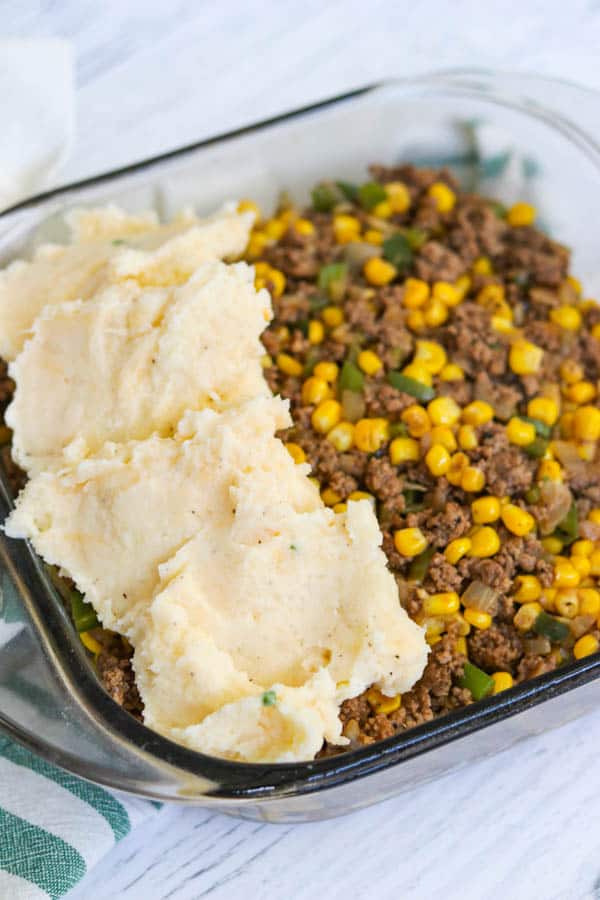 The beauties below are Red Angus cattle. Heard of them?
I had no idea Red Angus even existed! I thought there were only black. I think Ive got to get out more. haha
Theres no difference in their meat, only their color.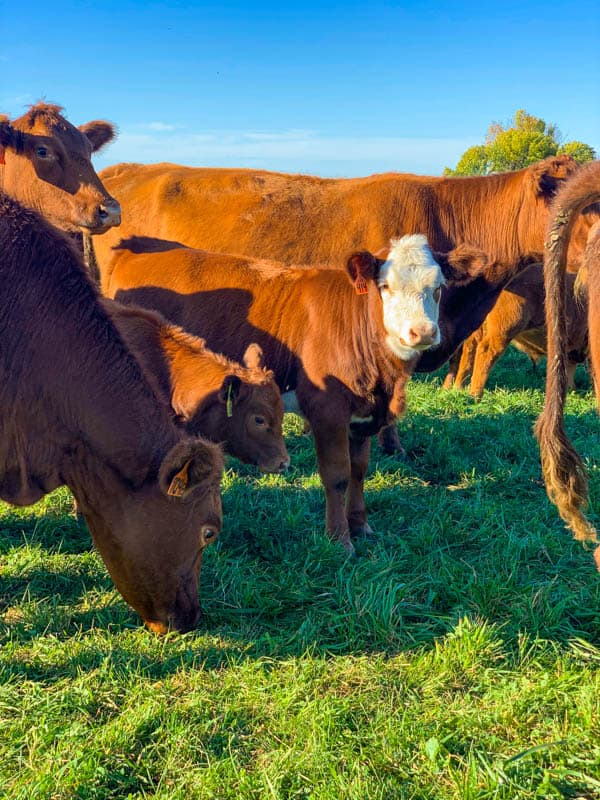 They are being raised on the Rowe Family Farm in Union County, Iowa.
As with all farmers, stewardship is extremely important. Justin Rowes father and mother took exceptional steps to preserve their family farm which included rotational grazing, building fences around ponds and installing water tanks underneath them as well as taking steps to prevent soil erosion and lots more.
Their exceptional work earned them awards, in addition to giving them peace of mind that they were building a better and more sustainable farm for their sons.
So why use grain-fed beef in this Shepherds Pie recipe?
Im so very glad you asked!
You receive more of a health benefit when consuming grain-fed beef as opposed to grass-fed. The difference being the amount of fatty acid content in those animals that consume grain as its been shown to contain higher monounsaturated fat or MUFA.
What are MUFAs?
MUFAs are the same type of fat in avocados and olive oil. This fat has been shown to reduce LDL cholesterol as well as lowering the risk of cardiovascular disease and type II diabetes.
You can learn much more about the beef you eat by visiting the Iowa Beef Council as well as more about corn at Iowa Corn!
So lets eat more beef!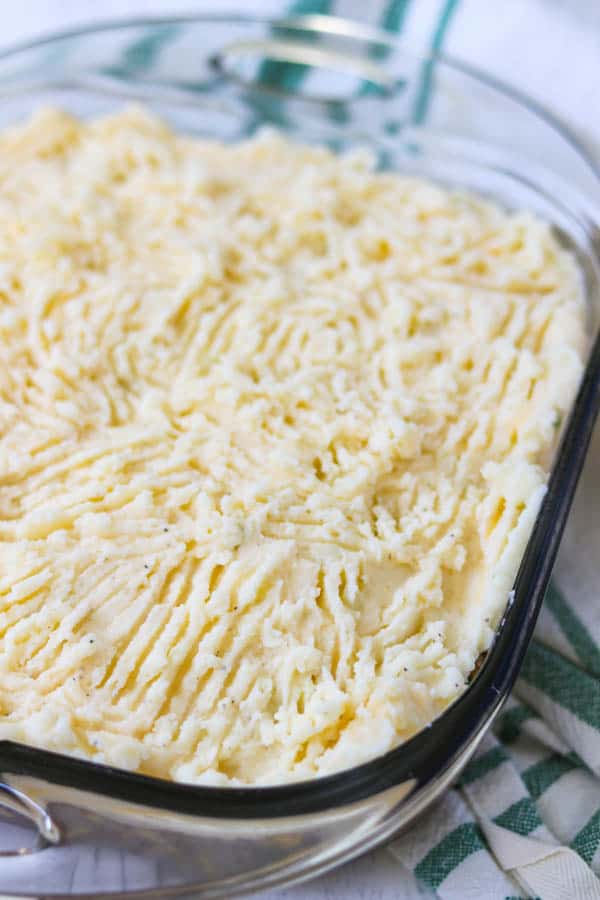 More Beef Recipes
Remember Clara Peller, who coined the phrase, Wheres the beef? in that commercial way back in the 80s? Well, maybe you dont, but shed be super happy that theres lots of beef in these recipes!
This Slow Cooker Beef Chili Verde with Polenta is delicious by itself, but the taste and texture of the polenta really sends this dish over the top. So dont skip it!
Of course, onealways needs a go-to Lasagna, and my mothers recipe is the one Kurt would choose to have as his last meal. Seriously.
He loves it that much, as do I.
Pad See Ew is a super easy and fast dish to put together. This recipe is perfect for a busy weeknight meal.
Or if you really want to impress your guests, go with theBraised Short Ribs. Serve over them over buttered noodles, mashed potatoes or creamy polenta with a salad on the side.
Need ideas for those hungry game day fans? Then this Taco Dip andTaco Braid will fill them up! Theyre also great to serve on Taco Tuesdays! Make them with the Homemade Taco Seasoning, too!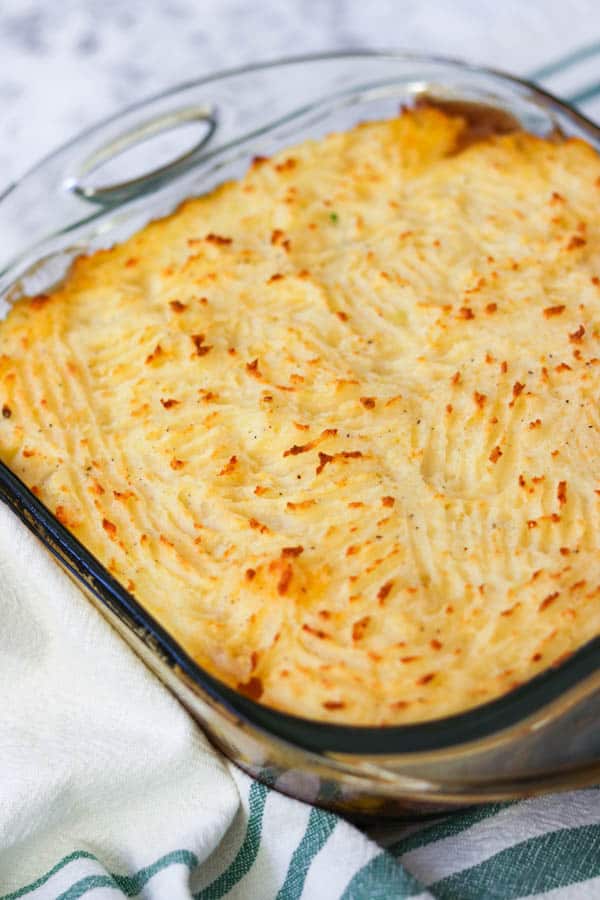 How Do You Make This Shepherds Pie Casserole Recipe?
Preheat oven to 400 F and prepare an 8 X 8-inch baking dish by spraying it with cooking spray. At this point, Ill also line a rimmed baking sheet with aluminum foil which Ill put the baking dish on when it goes into the oven. Occasionally, it will bubble over the sides, so this prevents any messes in my oven.
In a large skillet over medium heat, saute the green pepper and onion in corn oil or bacon drippings (even better!) until soft.
Add the ground beef and cook until browned.
While the beef is cooking, combine the beef bouillon and boiling water in a liquid measuring cup. In a bowl, mix the cornstarch and cold water together. Add the beef broth to the cornstarch and mix well.
Add the liquid to the skillet along with the steak sauce and steak seasoning (or salt and pepper), and cook until thickened.
Add the corn and stir to combine. Then pour the beef into the baking dish.
Top with leftover mashed potatoes of theseVanilla Mashed Potatoes and spread evenly.
After the pie has cooked for about 30 minutes, broil under high heat for 1-2 minutes or until the mashed potatoes are crusted and lightly golden.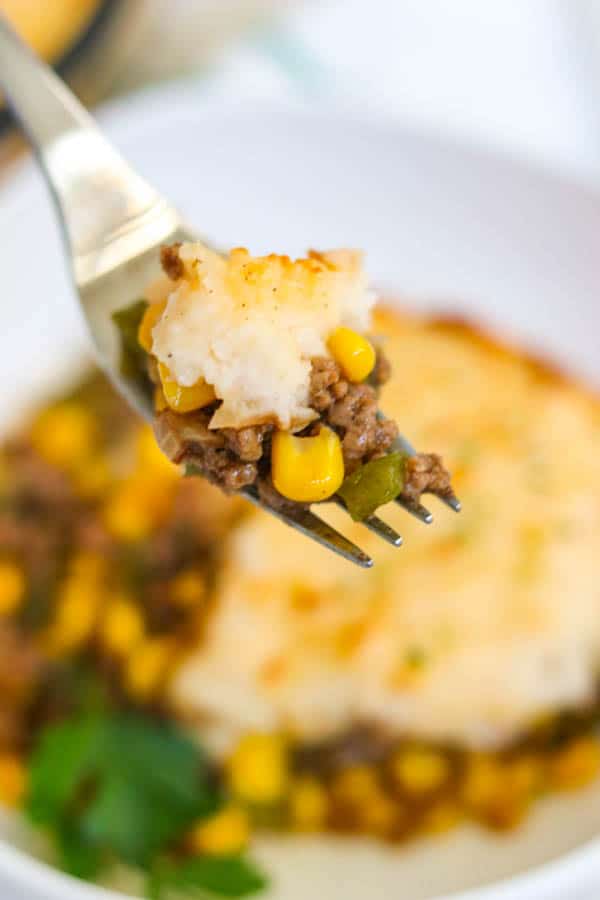 One of the things that surprised me most on the farm tour with Iowa Corn was how many uses there are for corn. From feeding animals including cattle and pigs to ethanol, foods and much more, corn is a very versatile crop! I seriously had no idea. Its in so many of the items we use on a day-to-day basis.
Ive used it in many of my recipes as well.
ThisSkillet Mexican Street Corn is one of my favorite ways to eat it. I could seriously eat thatwholedish all. by. myself.
Corn muffins are delicious. Have you ever had them? I love them plain, but I theseBlueberry Cornmeal Muffins are a delicious version of the traditional muffin.
We eat this Corn Spoon Bread whenever I makeJambalaya. They go so well together and the bread is super easy to make.
SIGN UP FOR THE 365 DAYS OF BAKING & MORE
NEWSLETTER BELOW!
Shepherd's Pie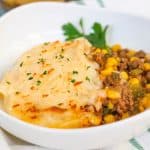 This easy Shepherd's Pie is made of ground beef, veggies, and corn in a delicious gravy topped with mashed potatoes that are broiled crisp after the entire dish is cooked. This is comfort food at its' finest.
1 large yellow onion
1 green pepper (cored, seeded and diced)
2 tablespoons corn oil or bacon drippings
1 lb. corn-fed ground beef
1 teaspoon beef bouillon paste (or 1 beef bouillon cube)
1/2 cup boiling water
1 tablespoon cornstarch
2 tablespoons cold water
2 tablespoons steak sauce
2 teaspoons steak seasoning (I used McCormick's Montreal Steak Seasoning see note*)
12 ounces frozen corn (thawed)
4 cups seasoned mashed potatoes (see note*)
Preheat oven to 400 F. and prepare an 8 X 8-inch baking dish by spraying it with cooking spray.

In a large skillet over medium heat, add the oil, onion and green pepper and cook until soft, about 5-7 minutes.

Add ground beef and cook until brown, about 10 minutes. Drain fat, if necessary.

In a liquid measuring cup, pour the 1/2 cup of boiling water. Add the bouillon paste or bouillon cube and stir until dissolved.

In a small bowl, whisk together the corn starch and 2 tablespoons of cold water. Add the bouillon mixture to the cornstarch and mix well. Pour into skillet.

Add the steak sauce and steak seasoning and mix until well combined. Cook until sauce is thickened, about 3-5 minutes. Add the corn and stir to combine.

Pour into the prepared baking dish and spread evenly.

Top with the seasoned mashed potatoes, such as my Vanilla Mashed Potatoes recipe. *See note. Evenly spread the potatoes over the meat and use a fork to give some texture to the top.

Bake for 25 30 minutes.

Place broiler on high and broil for 1 2 minutes or until the top of the potatoes are crusted and golden, being careful not to burn.
If not using the recommended steak seasoning, add 1 teaspoons salt and ground black pepper to the beef mixture when you add the steak sauce.
For seasoned mashed potatoes, I love to use my Vanilla Mashed Potatoes recipe or some mashed potatoes with added cheese.

Recommended Side Dishes
We love to eat ours with these Texas Roadhouse Rolls with a smear of Easy Cinnamon Honey Butter on top. Theyre the perfect accompaniment to this dish.
My Strawberry Spinach Salad has a lot of color and is full of color. Sometimes I eat more of this salad when I serve the two together. I just cant help myself its that good.
Another side favorite at our house isRoasted Parmesan Broccoli. When that stuff comes out of the oven, I find myself eating it right off the pan.
Then there are theMaple Bacon Brussels Sprouts. Kurt didnt think hed like Brussels sprouts, but one bite of these and he seriously fell in love with them. Then he couldnt stop eating them! haha
Like squash? Butternut squash, spinach, pomegranate arils and rice make up thisButternut Spinach Multi-Grain Medley. We eat it a lot in the Fall, but I love it all year long, too!
The post Easy Shepherds Pie appeared first on 365 Days of Baking.