This Easy Spinach Lasagna is a smaller batch lasagna recipe made with no boil noodles. Its a great, quick and easy weeknight dinner recipe!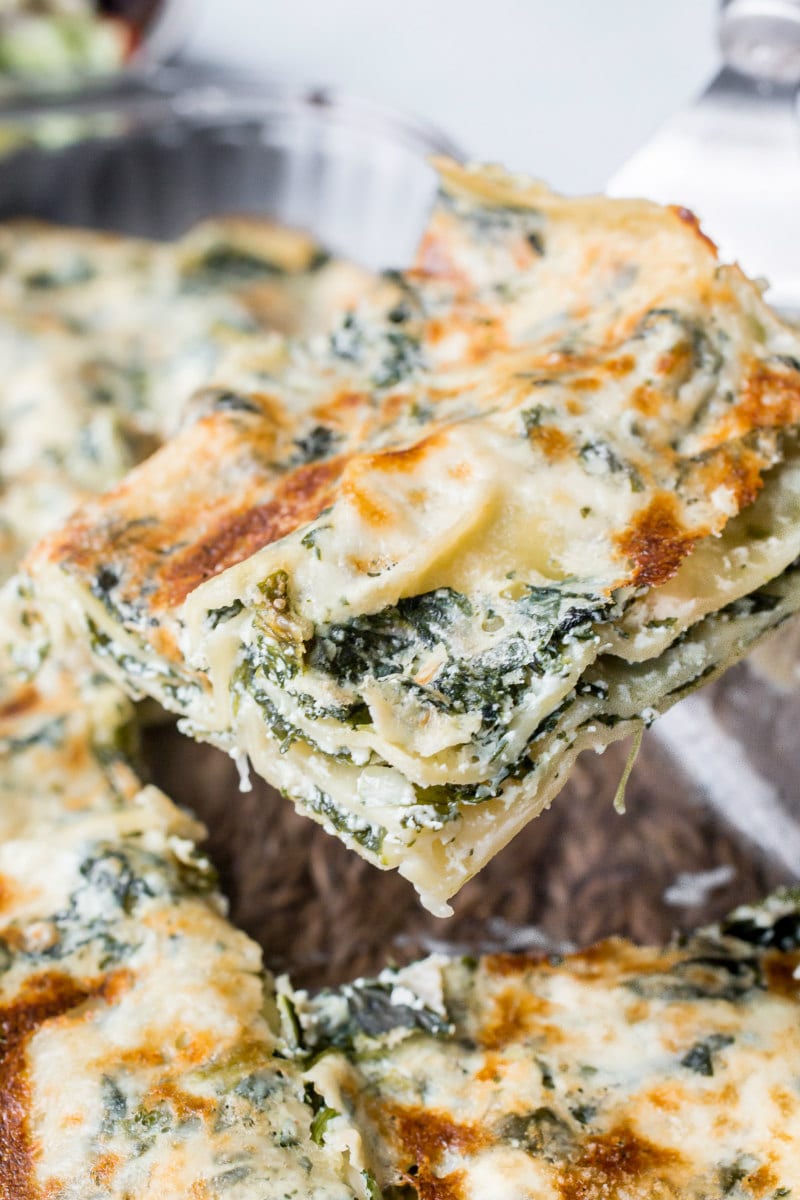 If youre looking for a traditional, tall layer lasagna that is filled with meats and cheeses and red sauce then this isnt the lasagna youre looking for. This Easy Spinach Lasagna is quite a bit lighter and its a lower fat option when compared to a traditional lasagna. Its divided by layers of spinach and ricotta cheese, and it uses a white sauce instead of red.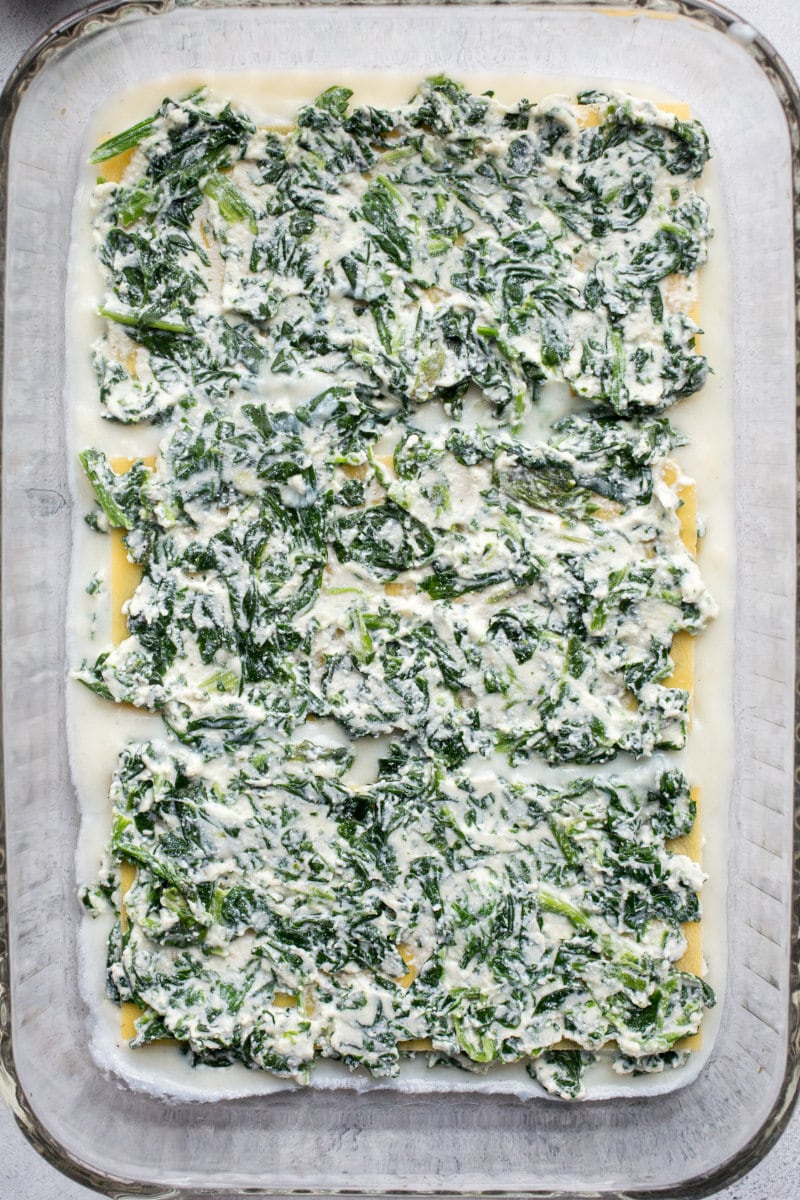 How to make Easy Spinach Lasagna:
Since this is a smaller batch lasagna, you will need an 117-inch dish for this recipe. Amazon can deliver the one that I linked for you the same day in many cities. I love that convenience!
First youll make the white sauce. Onions are sauted, and then flour is stirred in. 1% milk, salt and pepper are added last. The sauce is heated until slightly thickened and hot (about 5 minutes.) One cup of sauce is spread into the bottom of the pan, then 3 no-boil lasagna noodles are laid on top. Half of the ricotta filling is spread on top of the noodles (a mix of ricotta, spinach, egg white and nutmeg). Then layer one more cup of sauce, more lasagna noodles, the rest of the filling, and another cup of sauce. The remaining noodles are placed on top and the remaining sauce too. Continue reading for optional cheese add-ins. Print the full recipe at the end of this post.
Optional add-ins:
Since this recipe is designed to be much lighter than the lasagna youre probably used to eating, it doesnt have extra cheeses in it. If you want this lasagna to be cheesy, add shredded mozzarella and Parmesan cheeses to each layer. Add it to the top too. It will be extra cheesy this way!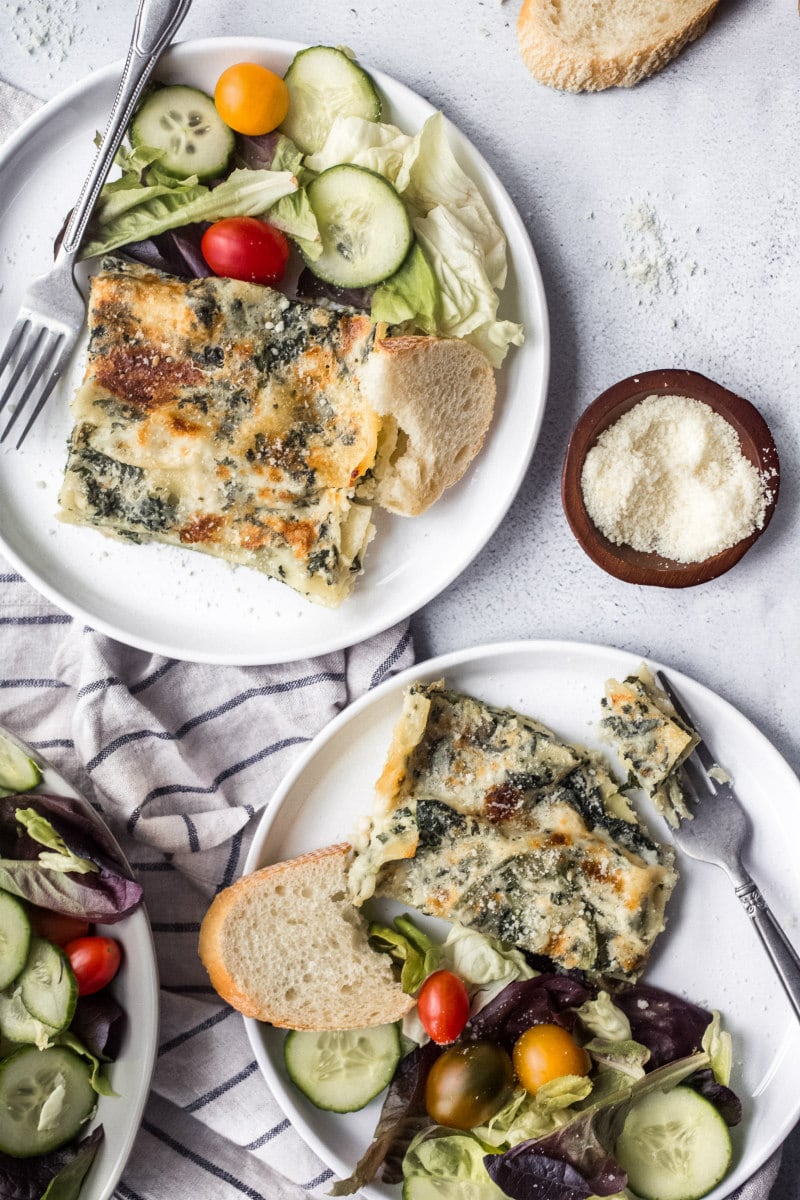 The recipe makes 6 servings. If youre a hungry bunch, its perfect for three people with room for a second helping. And if youre a couple, its a good one for enjoying lunch leftovers the following day.
Weight Watchers friendly lasagna:
As written, this Easy Spinach Lasagna is one that works for the WW program. Each piece of lasagna (the whole thing divided into 6 servings) counts as 9 points on any color plan. Thats a hefty point count to use, but its pasta so that makes it higher. Any additional (optional) cheeses that you add to the lasagna should be counted as extra points.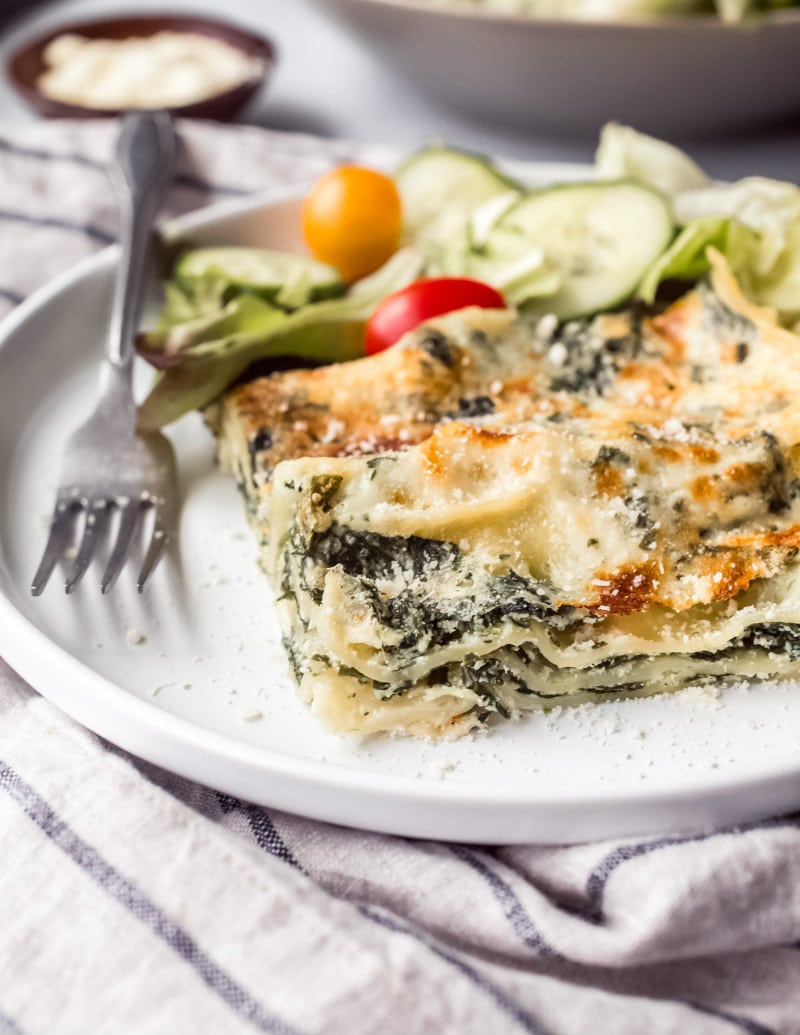 Here are a few more recipes using spinach that you might like to try:
Easy Spinach Lasagna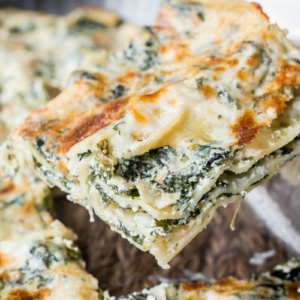 Super simple version of lasagna using spinach with a light white sauce.
SAUCE:
1 tablespoon olive oil
1/4 cup finely chopped onion
3 tablespoons all purpose flour
4 cups 1% milk
salt and pepper, (to taste)
FILLING:
15 ounces fat free ricotta cheese
10 ounces frozen chopped spinach, (thawed and squeezed dry)
1 large egg white
1/4 teaspoon ground nutmeg
NOODLES & TOPPING
9 no-boil lasagna noodles
Parmesan cheese for topping, (optional)
Preheat oven to 400F.

Heat oil in a nonstick saucepan over medium-high heat. Add the onion and cook until slightly wilted, about 3 minutes. Add flour, stirring until blended. Whisk in milk and bring to a boil. Boil until the white sauce thickens, about 5 minutes. Remove from the heat. Add salt and pepper, to taste.

Meanwhile, combine the ricotta cheese, spinach, egg white and nutmeg in a bowl. Spoon 1 cup of the sauce onto the bottom of an 117-inch baking dish. Arrange 3 noodles over the sauce. Spread 1/2 of the ricotta mixture evenly over the noodles. Top with 1 cup sauce. Layer 3 more noodles, the remaining ricotta mixture, and 1 cup sauce. Top with the remaining noodles and sauce. Bake, uncovered, until hot and bubbly, 20 to 25 minutes.
If you want a cheesy element to this lasagna, add shredded mozzarella and Parmesan between layers and on top. Note that the nutritional information will change with added cheeses.
The post Easy Spinach Lasagna appeared first on Recipe Girl.