These fried mac and cheese bites are an easy appetizer, perfect for using up leftover mac and cheese or for a party night!
Jump to Recipe
Ive tested my easy bacon mac and cheese recipe a lot, trying to make sure that its JUST perfect. But after doing three or four tests batches, it means I have a LOT of mac and cheese leftover! And though I love cheese as much as the next guy (I mean, I practically drink my beer cheese dip like a beverage), theres only so much mac and cheese one can eat. So thats when I figured Id repurpose it and make it into fried mac and cheese bites!
Fried mac and cheese balls are great for a party or as a way to use up leftover mac and cheese. I also love the ratio of the crunchy outside to creamy inside.
How do you make fried mac and cheese bites?
First you have to make mac and cheese. You can make it with from scratch from any recipe you want, though my bacon mac and cheese recipe is my current favorite! Or you can just use a store-bought box mix or pre-made frozen mac and cheese. Totally up to you!
Once you have your cooked mac and cheese, refrigerate it until it solidifies. Scoop out balls of the stiff mac and cheese, dip it in a beaten egg, then coat it with panko bread crumbs and chopped parsley. Then fry the balls in oil until done! Easy.
What if the cold mac and cheese is crumbly and doesnt stick together in a ball shape?
If your mac and cheese is more on the dry side (which happens sometimes with baked mac and cheese from scratch) no worries! I have instructions on how to fix that in the recipe. But you basically just need to melt some extra cheese in the microwave or the stovetop. Toss the crumbly mac and cheese with the melted cheese, and it will bind it together, making it easier to form balls.
What sort of extra melty cheese should I use?
My cheese of choice for this sort of thing is Velveeta! I know, its not super fancy. But if youre gonna fry balls of mac and cheese, maybe you dont need to go fancy? Velveeta and American cheese both melt really well and bind the mac and cheese together easily. But if you want something a little more sophisticated try these other melty cheeses: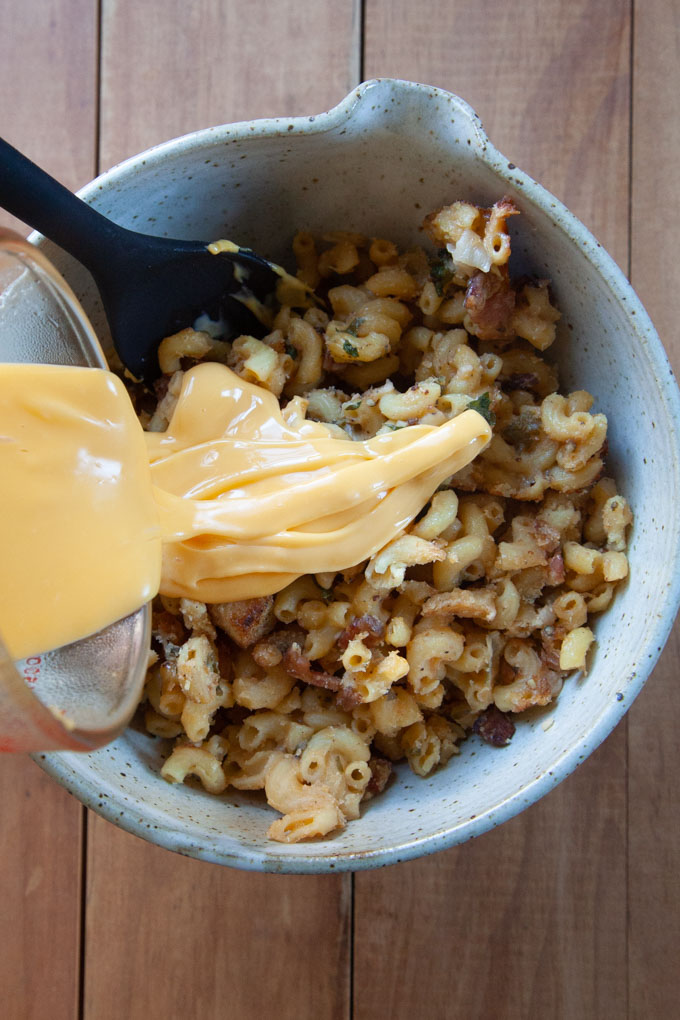 What should I dip mac and cheese bites in?
You can serve mac and cheese bites all by themselves but they go great with various dips! Try serving them with these various options, either store-bought or homemade:
How do I store mac and cheese bites
Let the mac and cheese bites cool completely, then store them in an airtight container, in the refrigerator, for up to 3 days.
Can I freeze the mac and cheese balls?
Yes! You can also freeze them. Store them in an airtight container or a freezer resealable ziplock bag for up to a month.
How do I reheat fried mac and cheese balls?
The best way to reheat them is to place them on a foil lined baking sheet and heat them up in an oven or toaster oven. Place them in a 350F heated oven for 5 to 7 minutes or until they are heated thoroughly. You can even reheat the mac and cheese balls directly from the freezer this way, without thawing them! Just increase the heat time to 10 to 15 minutes.
What is Panko Crumbs?
This recipe uses panko bread crumbs. Panko is a Japanese bread crumb that is extra crispy! Its made with white bread and is baked using an electrical current, then ground into flakes. It doesnt have a lot of flavor but its light, airy and super crispy and its what gives this recipe a next level crunch over other recipes out there.
You can find panko bread crumbs at well-stocked grocery stores, as well as stores like Trader Joes and online (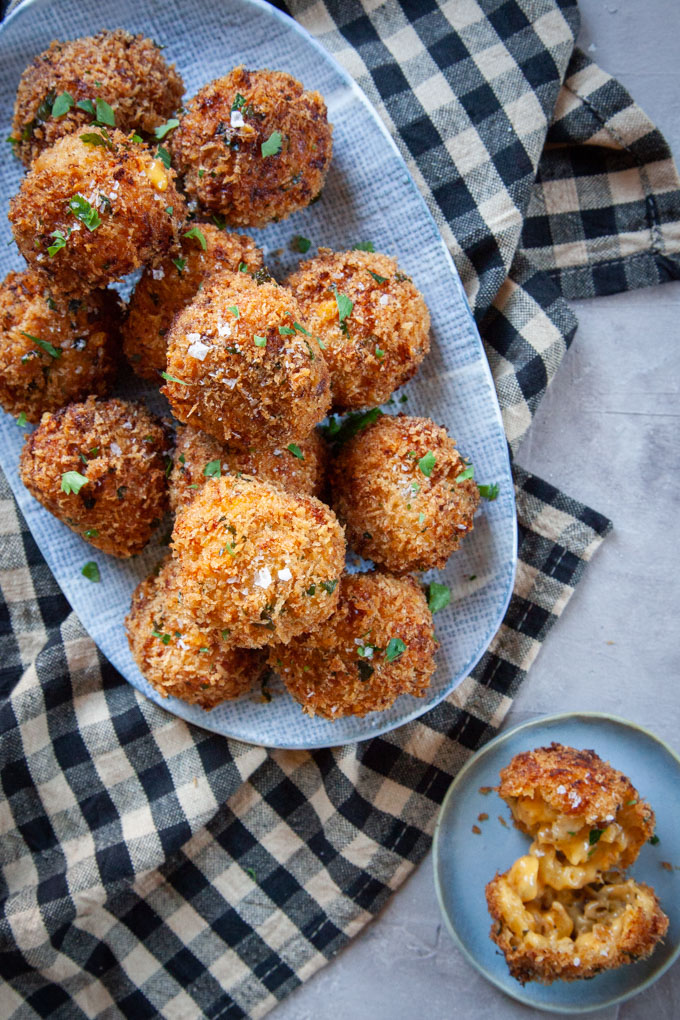 If you like these fried mac and cheese bites, check out these other fried appetizers:
And check out a few other recipes that use Thanksgiving leftovers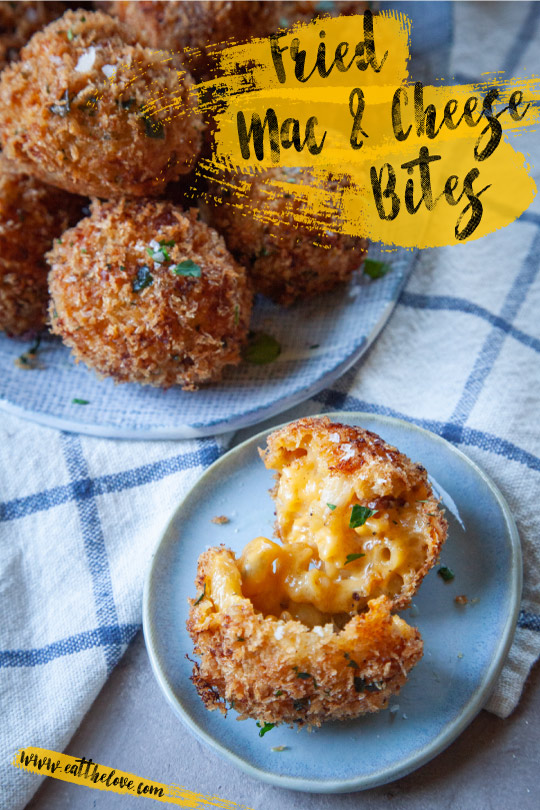 Print
Fried Mac and Cheese Bites
These easy-to-make fried mac and cheese bites are a great way to use up leftover mac and cheese from a large dinner party. Theyre also fantastic appetizers for a party or a game night! The recipe does require you to chill already prepared mac and cheese in the refrigerator for at least 2 hours or overnight, so take that into account with preparation.
Course
Appetizer, Side Dish, Snack
Keyword
appetizer, fried, leftovers, mac and cheese, thanksgiving
Equipment
candy/deep frying thermometer (recommended)
Ingredients
4

cups

mac and cheese

store-bought, made from a box, or homemade from scratch (about 400 g)

6 to 12

ounces

of Velveeta or other melty cheese

see section above recipe about other melty cheese recommendations (only if necessary)

2

large eggs

1

teaspoon

kosher salt

divided

1

teaspoon

ground pepper

divided

1 1/2

cups

panko bread crumbs

see section above about panko bread crumbs (90g)

2

tablespoons

chopped parsley

Oil for frying
To finish
1/2

teaspoon

sea salt

like Maldon (optional but recommended)

1

teaspoon

chopped parsley

(optional)
Instructions
Place the mac and cheese in the refrigerator in an airtight container and let chill until firm, about 3 to 4 hours or overnight.

Use a small ice cream scoop or a large spoon to scoop out balls of mac and cheese. You can also squeeze and form them in your hand. The warmth of your hand will help make the mac and cheese more pliable and form balls. You want the balls to be about 1 1/2 to 2 inches in diameter, about the size of a golf balls. You can go smaller if you want to make more of them, but I wouldnt advise going bigger, as they become a little hard to eat at that point. You want them bite size or at least two-bite size.

If the mac and cheese is crumbly, which sometimes happens when it is homemade (specifically if its a baked-style mac and cheese), you will need additional cheese to bind it all together. Grate or chop 8 ounces of Velveeta or other melty cheese (see section above recipe for various cheese options). Then melt it by cooking in the microwave in 30 second burst, stirring between cook time. Or heat on low heat on a stovetop until it is liquid. Drizzle melted cheese over the mac and cheese and toss to help bind the mac and cheese together. Melt and use more cheese if necessary.

Once the balls are all formed, place the eggs in a medium bowl with half the teaspoon of salt and pepper. Beat until well mixed. Place the panko crumbs in another medium bowl. Stir in the remaining salt and pepper along with the chopped parsley.

Dip the mac and cheese balls in the egg first, turning it all the way around to make sure the entire surface is coated. Dip the egg coated ball in the panko bread crumbs and roll it around to make sure it is completely coated. Place on a baking sheet or plate, and repeat with the remaining balls.

Place a wire rack on a rimmed baking sheet or a paper towel on a plate.

Pour enough oil in a saute pan or large Dutch oven so it is about a 1-inch deep. Heat the oil to 350F. Once the oil is hot, lower the coated balls into the hot oil using tongs. Do not drop them! Place half the ball in the oil, then let go. This prevents splashing and burns. Fry 3 or 4 at a time, or as many as your pan will allow. Dont overcrowd the pan though! Make sure theres enough room for the balls to float next to each other.

Fry the balls on one side until golden brown, about 1 1/2 to 2 minutes. Then flip the balls and fry the other side for the same time. Once the balls are completely golden brown, move them with tongs or a spider/slotted ladle to the wire rack or onto the lined paper towel plate to drain and cool slightly. Repeat with the remaining balls.

Place on a serving platter and sprinkle with extra parsley and flaky salt if you want. Serve warm, by themselves, or with your favorite dipping sauce (see section above for suggestions).
Notes
An average blue box of mac and cheese usually yields about 3 cups of mac and cheese. You can use the same recipe above for the entire box. Youll just have a little leftover egg and bread crumbs. Or you can use two blue boxes, and just use 3 eggs, along with 2 1/4 cups of panko bread crumbs. Increase the parsley, salt and pepper to your taste.
The post Fried Mac and Cheese Bites appeared first on Eat The Love.