This Hot and Sour Soup is just like youd find in a Chinese food restaurant and its low fat too!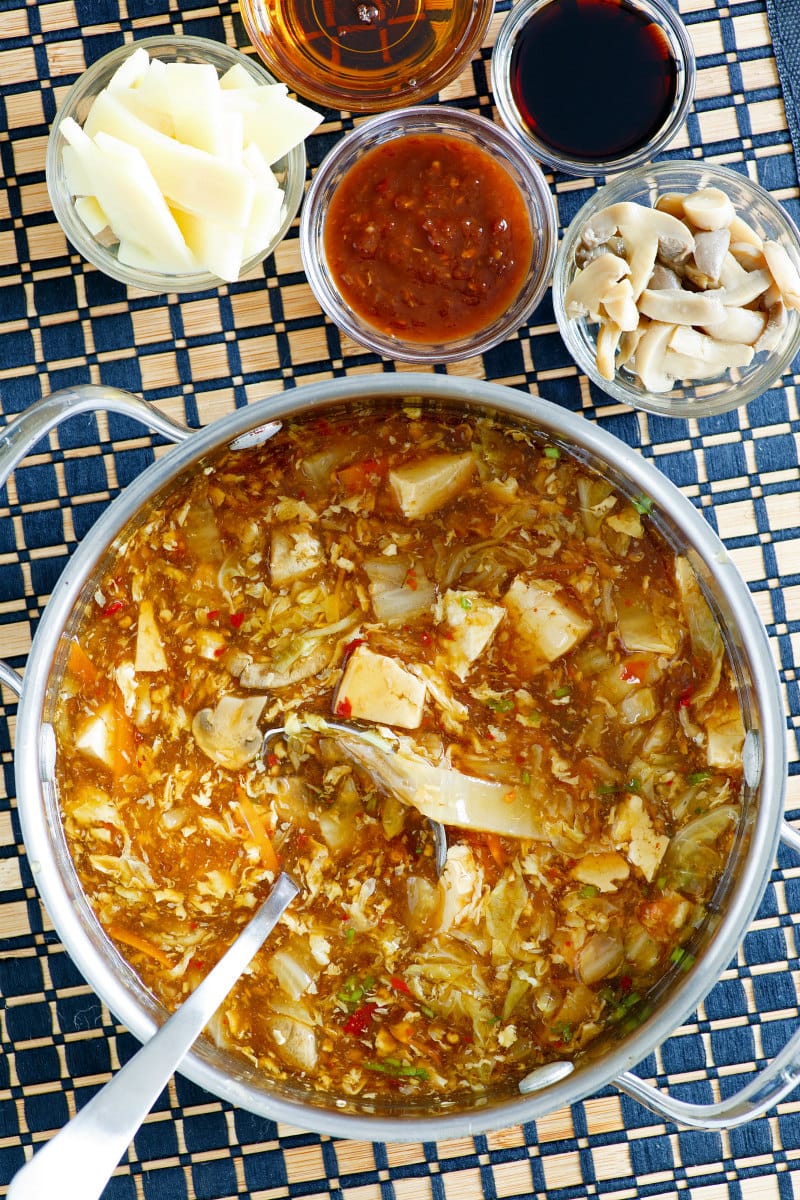 It has been super cold in Arizona this week. And by Arizona standards, that means were waking up to temperatures in the mid-thirties and the highs during the day in only the mid 50s. That may sound like heavenly winter weather to people in the colder parts of the world (and it is). But were just not used to it! Chilly days require soup to warm us up. This Hot and Sour Soup is the perfect solution, especially if youre trying to eat light.
You may wish to purchase these items to go with your soup:
Asian Soup Bowls:these are so pretty! And bonus that you can use them for salad or pasta too.
Asian Soup Spoons: If you have Asian bowls, then you must have Asian soup spoons to go with them!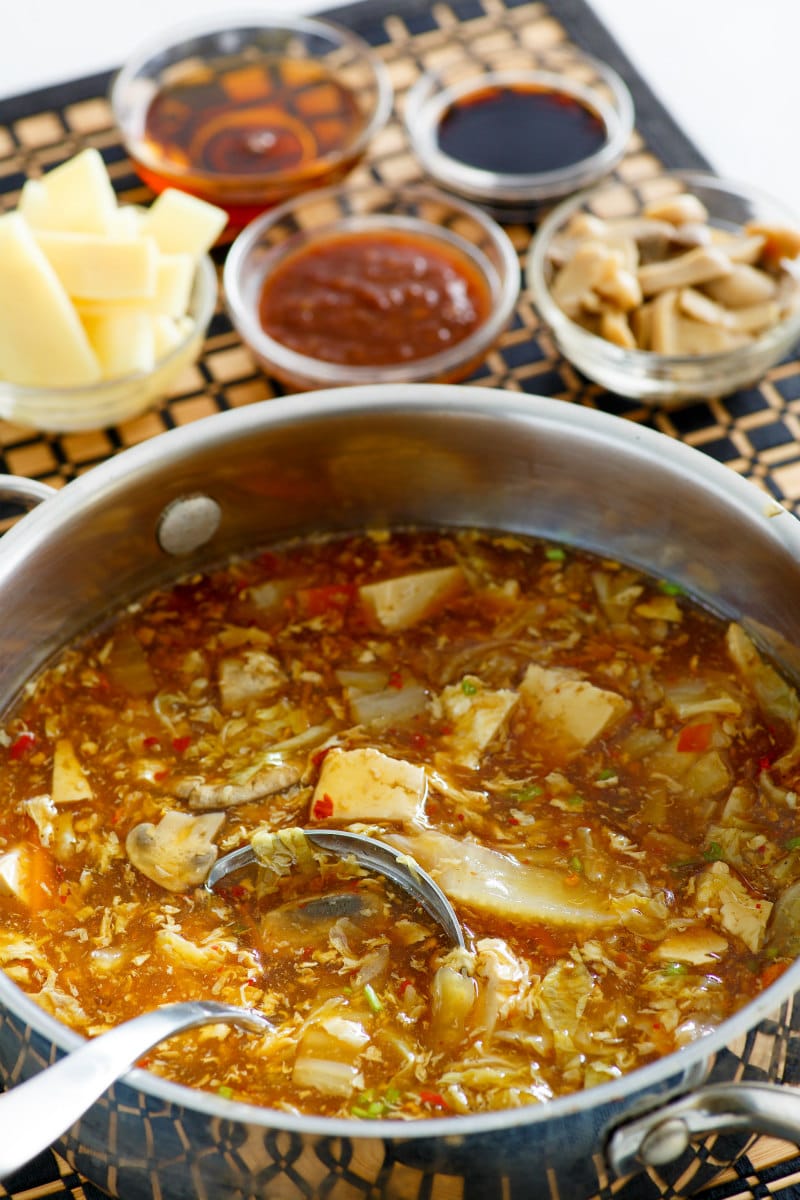 Hot and Sour Soup is a classic Asian soup recipe. You can probably spot it on just about any Chinese restaurant menu. It contains ingredients to make it taste both spicy and sour.
How to make Sweet and Sour Soup:
Dried mushrooms are hydrated with hot water. Then youll combine chicken broth, rice, vinegar, soy sauce, chili garlic sauce and dark sesame oil and bring that to a boil. Then youll add the mushrooms, tofu and bamboo shoots. To thicken the soup, youll add a cornstarch/water mixture. And a beaten egg white is swirled in at the end. Thats it!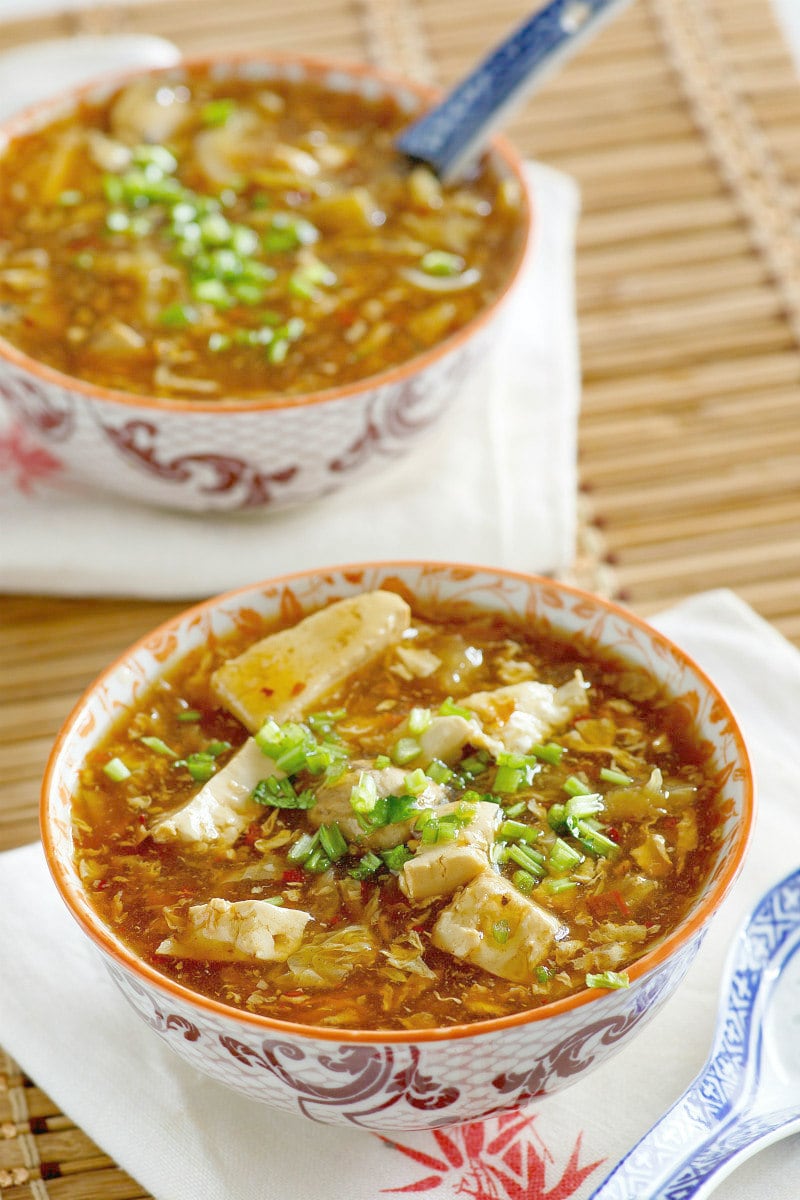 About Tofu:
This recipe calls for using reduced-fat soft tofu. Tofu is low in calories and has a lot of protein. Its usually added to Chinese Hot and Sour Soup, so I wouldnt skip it. Tofu doesnt really have much flavor. It absorbs the flavors that are in the dish. The photo above shows the tofu in larger chunks, but I prefer it cut into small cubes for this soup.
Is this soup Weight Watchers friendly?
Absolutely! This is a nice, light soup recipe. And its a great soup recipe to try if youre on the WW program. Point totals are include at the top of this post and in the recipe card. Theyre low points all around! The recipe making enough for 4 servings, so just divide that into four equal portions.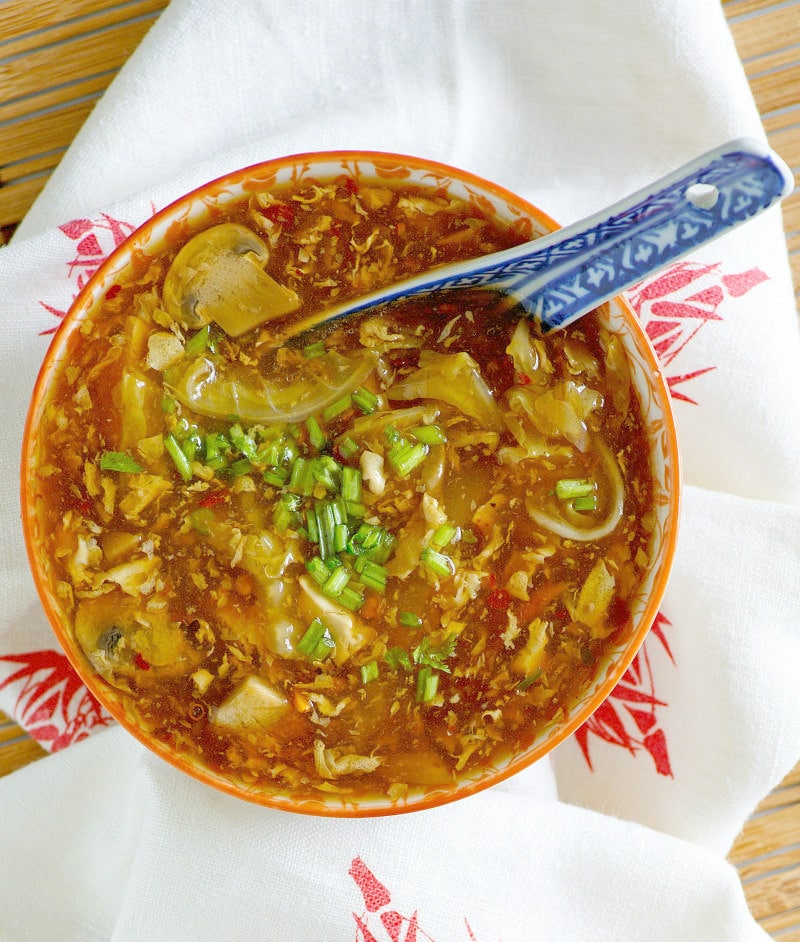 Here are a few more soup recipes you might like to try:
Hot and Sour Soup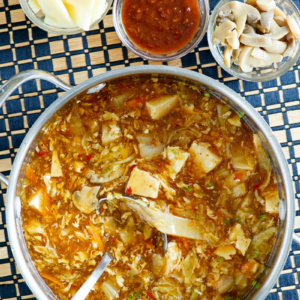 Just like what you'd find in a Chinese restaurant!
6 whole dried mushrooms
4 cups chicken broth
3 tablespoons rice vinegar
2 tablespoons reduced-sodium soy sauce
1 tablespoon chili-garlic sauce
1 teaspoon dark sesame oil
8 ounces reduced-fat soft tofu, (drained and cut into -inch cubes)
One 8-ounce can bamboo shoots, (drained and thinly sliced)
2 tablespoons cornstarch
3 tablespoons water
1 large egg white, (lightly beaten with 1 tablespoon water)
chopped green onions for garnish, (optional)
In a small bowl, combine the dried mushrooms with enough hot water to cover by 2 inches; let stand 15 minutes, and then drain.

In a large saucepan, bring the broth, vinegar, soy sauce, chili-garlic sauce and sesame oil to a boil. Add the drained mushrooms, tofu and bamboo shoots. Reduce the heat and simmer 10 minutes. Combine the cornstarch and water in a small bowl; stir in about 1/4-cup of the hot liquid, and then return to the pan. Cook, stirring constantly, until the mixture boils and thickens slightly, about 1 minute. Remove from the heat; slowly drizzle the egg mixture into the soup while stirring in a circular motion. Serve immediately.
This recipe is gluten-free adaptable-just be sure to use brands of chicken broth, soy sauce and chili garlic sauce that are known to be GF.
For ease in preparing mushrooms, place water in pyrex cup and heat in microwave. Then add mushrooms and soak.
The post Hot and Sour Soup appeared first on Recipe Girl.