This is the best thing I've cooked with the least amount of effort in the past month. Most of my lazy lunches never make it to the site, but this pasta is an exception. If you have a favorite dried pasta, a few cloves of garlic, walnuts, and black pepper you can make it too. The other ingredients – lemon zest, a bit of grated cheese, a finishing cascade of breadcrumbs and herbs are encouraged, but not essential. It's the kind of meal that checks the box when you're in the mood for creamy pasta, but no cream is needed. You get rich, nutty, walnut sauce from pounding garlic and toasted walnuts into a paste and thinning with a good amount of salted pasta water. Peak comfort food.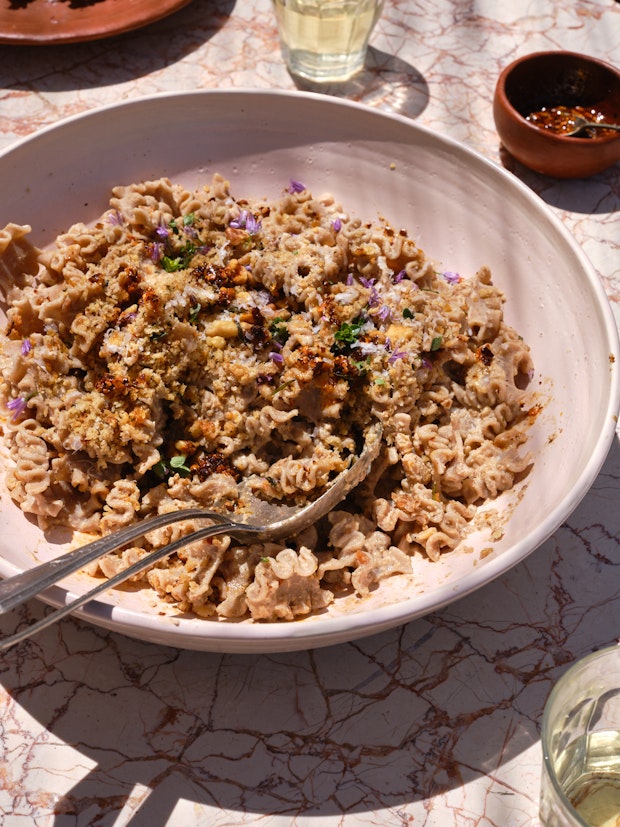 What type of pasta to use?
I vote for short pasta here, preferably something whole grain and somewhat rustic. The pasta you see pictured is emmer reginetti. I grabbed it on a whim the first time I cooked this and it worked beautifully for this recipe. The way the ruffles catch just the right amount of creamy walnuts is a thing of beauty. That said, play around with different pastas, and experiment with shapes you love. Fusilli might be great, or even little shells.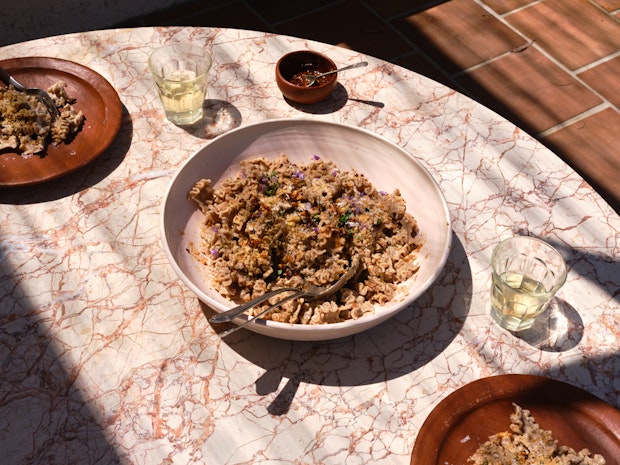 Variations:
– Experiment with other nuts: You might be able to do a nice alternative version of the walnut sauce with toasted almonds, or toasted pecans instead. Or a blend of whatever nuts you have available. I've been doing 100% walnuts but suspect using other nuts would be great. The key is seasoning well – salt, pepper, and a bit of lemon juice. Take your time getting this part right.
– Add some green! Throw a bunch of broccoli florets or asparagus in to the pasta pot at the last minute to add a veg component to this without getting another pot dirty. We were out of both (yikes) or you would have seen one of them make an appearance here.
– Leftovers! Make a quick pasta & bean stew if you have leftovers. Combine the walnut-y pasta with some white beans in a saucepan. Add good tasting broth, heat, season, and add a bit of grated cheese to bring it all together. A handful of well-chopped kale wouldn't be unwelcome.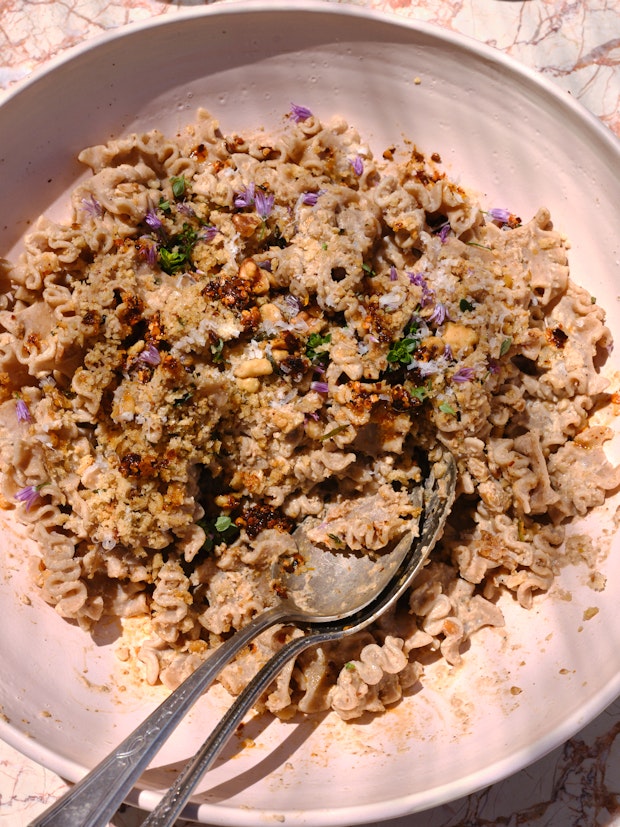 More Pasta!
If you need more pasta inspiration try this Pasta with Etruscan Sauce, or my favorite go-to tomato sauce (for pasta & pizzas), Curried Tomato Tortellini Soup, or Pasta with Smashed Zucchini Cream (in summer). A fun project is making homemade gnocchi, but if that's a bit too ambitious try this Last-Minute Lasagna recipe, Orzo Super Salad, or family-favorite stuffed shells. There's also a huge archive of pasta recipes and dinner ideas!
Continue reading Pasta with Creamy Crushed Walnut Sauce on 101 Cookbooks