An easy and elegant recipe for Smoked Sausage Stuffed Mushrooms cooked on your smoker (or oven). Smoked sausage is the secret to the BEST stuffed mushrooms ever!
These make a great holiday appetizer or for a family gathering!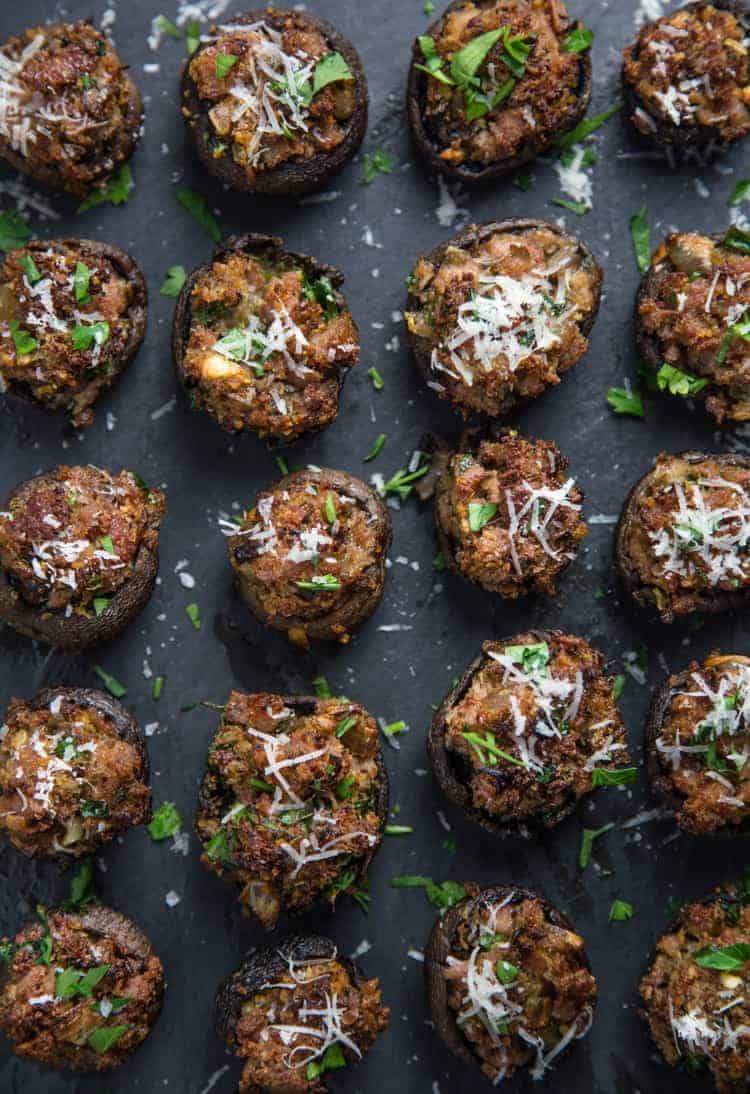 What could be better than delicious bite sized stuffed mushrooms filled with savory goodness?
The answer is smoked sausage in that filling!
Add smoked sausage to an already flavorful filling of shallots, garlic, crme frache, parmesan cheese (and more), and then smoke the stuffed mushrooms to create the ultimate stuffed mushroom.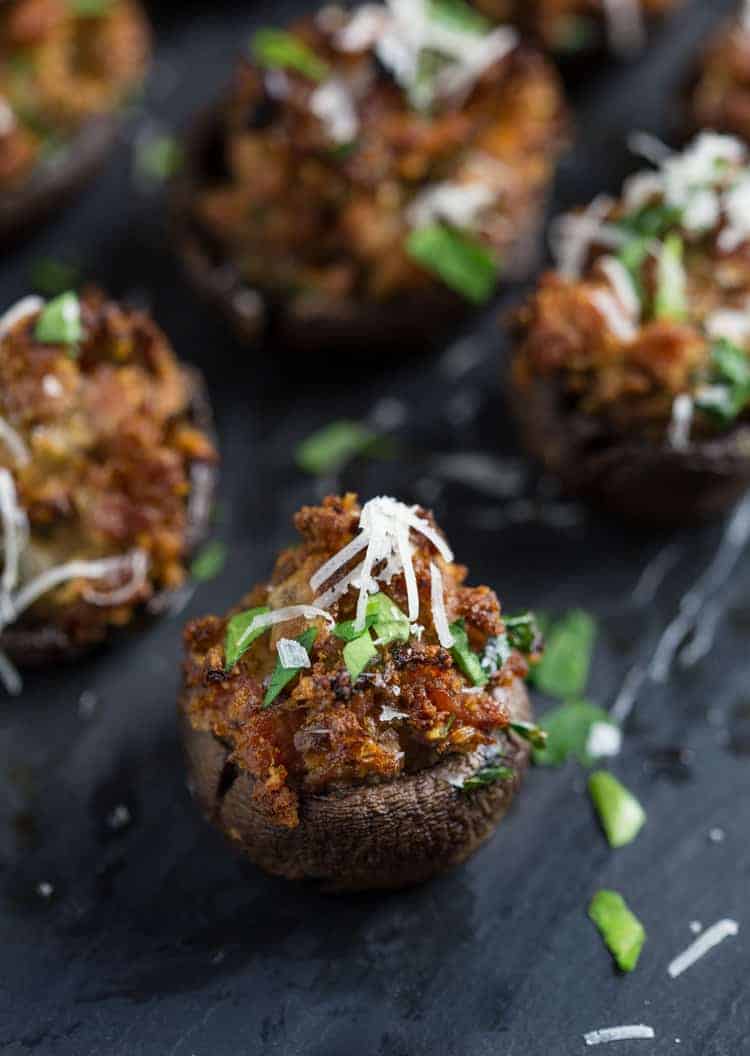 Smoking bulk sausage (sausage not in casings) is an easy way to get incredible smoked flavor into a number of meals. A few of my favorites include, smoked sausage and lentil soup, the smoked sausage and hatch chili beer cheese dip(!!!), and smoked sausage lasagna. Its a great way to enhance some of the classics!
How to Smoke Sausage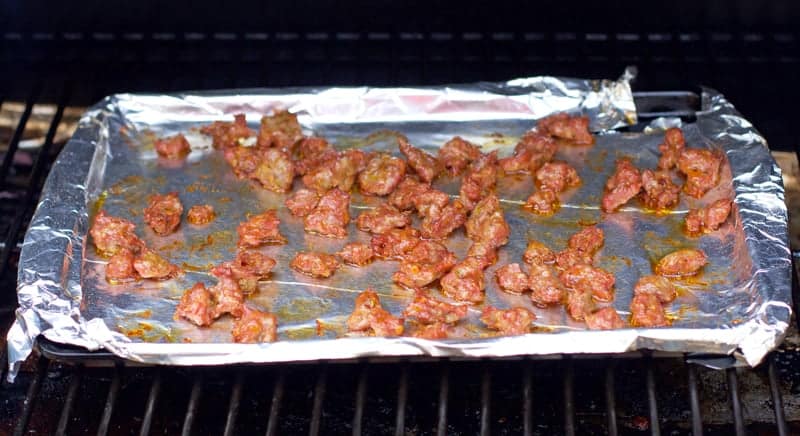 Take bulk sausage (we recommend spicy Italian if you like big flavor, or mild Italian if you like it a little more mild. I dont recommend unseasoned sausage.
Break it into small quarter-size pieces, and place them on a sheet tray, and onto the smoker, set to 225 degrees, for 45 minutes to one hour. They are done when the internal temperature reads 160 degrees F. Use a Thermoworks MK4 for the best temperature reading.
While they are smoking you can work on the stuffing.
We love the Snake River Farms bulk gourmet sausage, its savory and a little sweet and an amazing alternative to Italian style sausage you may see at a local butcher.
Once your sausage has cooled enough to work with, dice it into smaller finer, pieces. We want everything to comfortably fit inside the mushrooms without any dominating flavor or large chunks.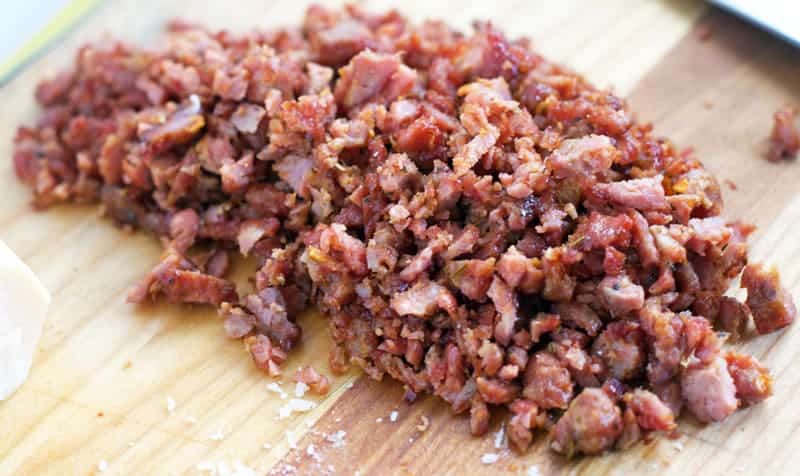 Stuffed Mushroom Filling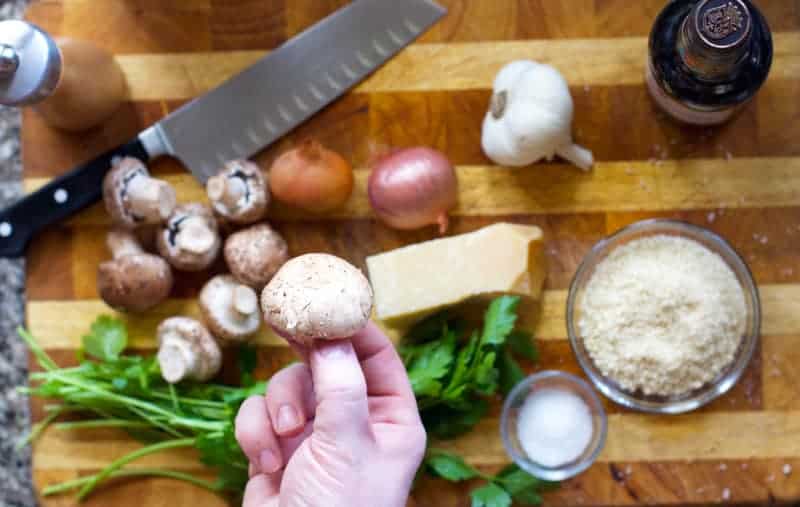 Start by cleaning and de-stemming your mushrooms. We use cremini mushrooms for this (but white button mushrooms are quite similar and work just as well).
When leaning and de-stemming your mushrooms, make sure to save those stems and chop them up finely and use them in your filling. No need to discard them. Boom, no waste! This will add more delicious earthy flavors to your filling, added moisture (mushrooms retain a lot of moisture), while keeping you from wasting excess food.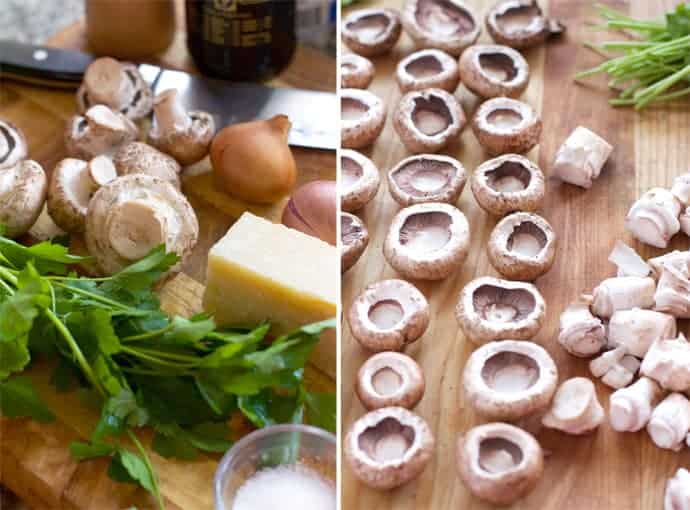 Next, saut shallots and those extra chopped mushroom stems in a large skillet until they have softened (around 8-10 minutes).
Then add the garlic and let it infuse into the mix for about a minute (while also making your house smell heavenly). And now add your sherry.

What kind of sherry to use for cooking?
Dont feel like you need to go out and buy fancy sherry just for this mix (though its good to have on hand for drinking, and also cooking). Sherry adds a unique flavor thats such a perfect match for mushrooms (and chicken, and soup, and so much more). If you dont have sherry, go ahead and use white wine. Chicken stock will work too in a pinch (it just has less of a distinct or elegant flavor). Were just trying to add a bit of moisture and flavor, thats all.
After thats all integrated, remove the pan from heat and mix in the cheese, creme fraiche, seasonings, and remainder of the filling mix and mix together.
A Note on the crme frache: It will add a nice creamy texture and a tangy element to the overall flavor. You can sub whole fat Greek yogurt, or cream cheese too (but note that cream cheese is much more dense than crme frache, so make sure its softened first).
How to Smoke Stuffed Mushrooms
Its time to stuff the mushrooms. Stuff those mushroom caps then put them on a cookie drying rack (for ease of transfer), then place them on the smokerfor about 45 minutes, or until the caps look soft and delicious and the tops look crisp.
Chefs Tip: All the meat is cooked, so its really about seeing some nice color on the stuffing and the darkening and softening of the mushrooms.
Make sure to serve these delicious savory treats warm. Want an added wow factor? Something we do when catering is a slight drizzle of aged balsamic vinegar. Its thick and sweet with savory, and an amazing addition of flavor.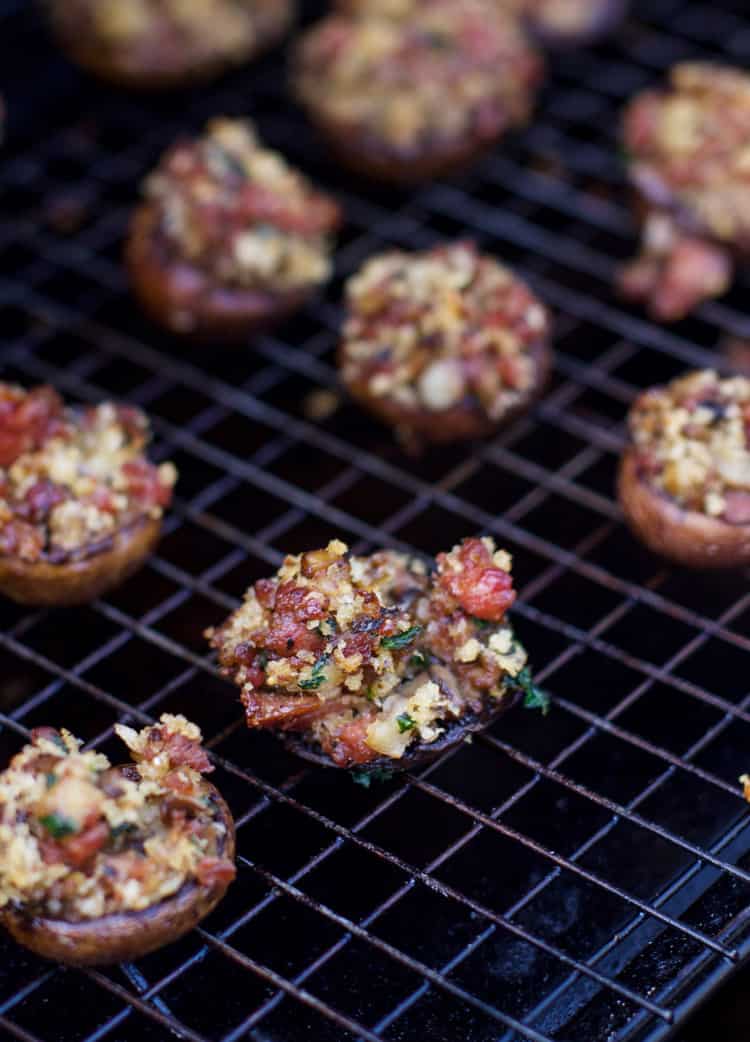 Smoked Sausage Stuffed Mushroom Recipe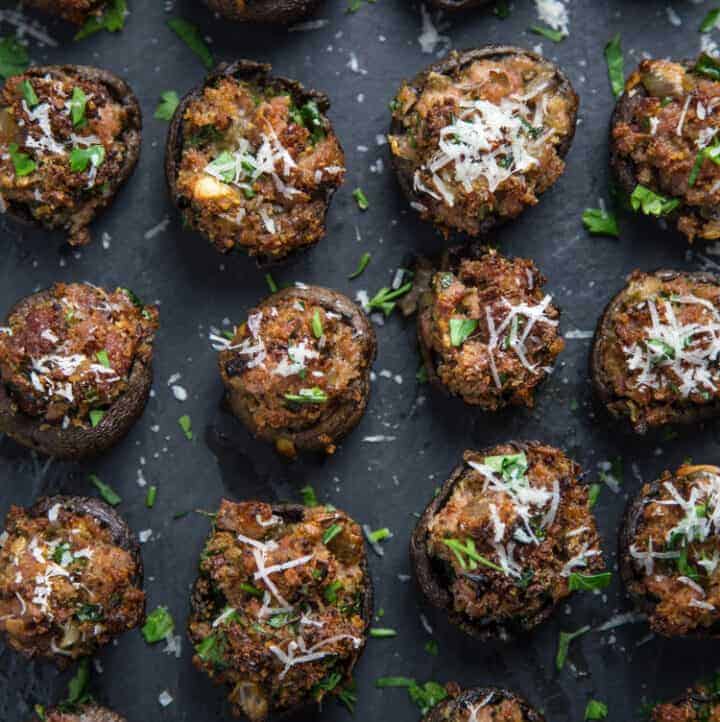 Smoked Sausage Stuffed Mushrooms
An easy and elegant recipe for Smoked Sausage Stuffed Mushrooms. Smoked sausage adds incredible flavor to this favorite holiday party appetizer.
Print
Pin
Rate
Total Time:
1
hour
45
minutes
Ingredients
lb

Italian style bulk pork sausage

(not in casings, broken up into quarter-sized pieces)

1

pound

cremini mushroom (remove stems, save and chop them for the filling)

2

tablespoons

extra virgin olive oil

1

tablespoon

butter

1/3

cup

shallots, finely diced (about one large shallot)

2

garlic cloves, finely diced

1

tablespoon

sherry

1/3

cup

shredded Parmesan cheese

1/3

cup

Panko bread crumbs

2

tablespoons

chopped parsley

teaspoon

salt

cup

crme frache (can also sub whole fat Greek yogurt or softened cream cheese)
Instructions
Preheat smoker to 225 degrees (we used pecan wood).
To Smoke the Sausage:
Place bulk sausage spread out on a large foil-lined cookie sheet in small clumps. Smoke for approximately 60 minutes. Look for a darker color on the exterior while still moist.

Remove and set aside.

When cool enough to handle, finely dice the sausage pieces. (Keep the smoker on)
For the Stuffed Mushrooms:
Remove stems from the mushrooms, and slightly hollow the insides of the mushroom caps. Save the stems. Finely chop the mushroom stems for the filling. Coat the caps with olive oil and line them up on a baking sheet to prep for the filling.

Preheat large skillet to medium heat. Add butter, shallots and the extra mushroom pieces, and saut for about eight minutes until the color is golden and the mixture has softened.

Add garlic and continue cooking for about two minutes. Add sherry and cook for one minute, then remove skillet from heat.

To the skillet, add the smoked sausage pieces, Parmesan cheese, Panko, parsley, and crme fraiche into remaining mix in, and stir together. Place a heaping amount of filling into the mushroom caps and press firmly to pack in the mix, taking care to not break the mushroom caps. Line up the stuffed mushrooms on a baking sheet.

Put the mushrooms into the smoker at 225 degrees for about 45 minutes or until the mushroom caps are soft. Remove and enjoy warm.
Notes
Alternatively you can bake these in the oven. Follow all instructions until cooking. Place the stuffed mushrooms in the oven set to 375 degrees for approximately 20-25 minutes, or until mushroom caps are softened and the tops are crispy.
Tips for the Best Sausage Stuffed Mushrooms
The type of sausage you used will make a big difference. We love spicy Italian sausage for the best flavor. Mild is second best. Bulk breakfast sausage will be very mild and you will want to jazz it up with more seasonings.
Crme frache may seem like a fancy ingredient, but it adds great flavor and creaminess. If you cant find it, you can sub softened cream cheese or full fat Greek yogurt.
Dont waste your mushroom stems! Chop them up finely and use them in your mix. They add great flavor and texture.
Use Panko breadcrumbs for the best crunch. Regular breadcumbs will work okay, but Panky have excellent crispy crunch factor.
GLUTEN FREE?: Substitute gluten free breadcrumbs, pork rinds (great tip!), or leave them out if you dont want them at all.
Use a sharp cheese, like Parmesan, Fontina, or sharp cheddar. You dont need anything soft (since you have the crme frache or cream cheese. So stick with a sharp hard cheeese to add a nutty flavor.
Can I bake Stuffed Mushrooms?
If you dont have a smoker or grill but still want these sausage stuffed mushrooms, you can follow these same instructions and bake them in the oven at 375 degrees for around 20-25 minutes, or until the mushrooms look soft and the tops look crisp and delicious.
Wine Pairing
Pinot Noir and anything with mushroom-y. or earthy flavors These flavors are heavenly together. And with the smoky flavor of the sausage I opt for a bigger or richer style Pinot. If theres no Pinot Noir on hand, I also love Rhone-style wines with this (Syrah or Grenache are nice bets).
---
If you like this recipe wed truly appreciate it if you would give this recipe a star review! And if you share any of your pics on Instagram use the hashtag #vindulge. We LOVE to see it when you cook our recipes.
---
The post Smoked Sausage Stuffed Mushrooms appeared first on Vindulge.