---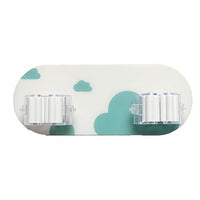 Strong and sturdyThe broom holder wall mount and broom holder organizer is made of tough PP + PVC, Maximum load bearing 5KG
Saving Space Superior Quality Tool Rack Holds Mops, Brooms, or Sports Equipment and Storage Tool Rack Storage & Organization for the Home Plastic Hanger for Closet Garage Organizer Shed Organizer Basement Storage Easy release by lifting the handle.
Easy to install and useClean the walls you need. | Carefully tear off the back of the protective film | Paste it on a clean wall | Press it evenly for about 10 seconds to squeeze the air on the surface | For best results, it is recommended that you use it within 5 - 24 hours
Wide Compatible To EverywhereApply to your garage, garden, kitchen, laundry, offices and more. It is strong and sturdy. It can organize most of tools of your home.
Package IncludedA:1 x Wall Mounted Mop Umbrella Holder(7.5 x 7.5cm/2.9x2.9inch) | B:1 x Wall Mounted Mop Umbrella Holder(7.5X19cm/2.9X7.5inch)(Mop and Broom Holder Wall Mounted Storage Solutions for Broom Hanger, Easy Installation Waterproof Garage Systems Gripper Broom Organizer Hanger for Kitchen Bathroom )

Features:

Easy to use, do not hurt the wall
Easy to install and easy to operate
Maximum load bearing 5KG
Non-slip waterproof design, very durable
Material:PP + PVC
Size:A:7.5 x 7.5cm,B:7.5*19cm

How to use:

Clean the walls you need
Carefully tear off the back of the protective film
Paste it on a clean wall
Press it evenly for about 10 seconds to squeeze the air on the surface
For best results, it is recommended that you use it within 5 - 24 hours

Package Included:

1 x Wall Mounted Mop Umbrella Holder
DaoAG Amazon ASIN B07KZRCXHK Health & Household Household Supplies , Cleaning Tools , Mopping , Accessories , Mop Handles