---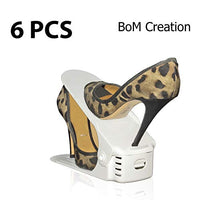 OPTIMIZES STORAGE. Best space saver! Doubles storage capacity instantly and eliminates clutter.
PERFECT GIFT FOR SHOE LOVERS. Keep your shoes clean and protected. No more piling up in the closet!
VERSATILITY. Suitable for all footware. Adults & children, outdoor to ballroom, sports to business.
ADJUSTABLE. Multiple height options allow storage of various type of footwear including high heels.
SUPERIOR STABILITY. Intelligent design and high quality materials ensure outstanding balance.
BoM Shoe Slots (6 pack) - 2018 White Edition 3 level height adjustable white shoe rack","BoM Creation
BoM Creation Amazon ASIN B07BB3QC3H Home & Kitchen Storage & Organization , Clothing & Closet Storage , Shoe Organizers , Free Standing Shoe Racks