---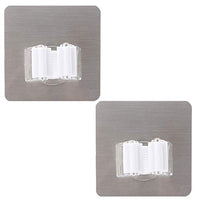 2pcs Value Pack-The Simple Magic Holder Hanger Organizer Fit for Home, Kitchen,Garage,Garden,Bathroom,office and Anywhere Needed, Hang Your Cleaner Tools, Dust Pan, Swiffer, Umbrella, Baseball Bat,Golf Brassie etc. Easy Access and Save Space
EASY TO INSTALL- Fix It Without Tools,No Drilling, No Screws, Well Done in 1min, Strong and Sturdy.Load Weight Up to 11Pounds.
KEEP HOME CLEAN AND NEW - All Your Tools in Organization Makes Your Home Stay Bright and Clean.And No Marks, No Holes, Harmless on Your Wall, Cleanly Remove.
Tidy up your broom, mop, rakes, tools and more! Perfect for the kitchen, closet, garage, office, great for commercial use, and thanks to the weatherproof design, this holder even works outdoors or on the shed for your garden tools!
Superior Quality Tool Rack Holds Mops, Brooms, or Sports Equipment and Storage Tool Rack Storage & Organization for the Home Plastic Hanger for Closet Garage Organizer Shed Organizer Basement Storage (High Quality)
Package Quantity:2
Wonderful life with mop holders!
Instructions
1. clean the wall, be sure to remove dust, grease and water etc.
2. the adhesive film can be directly adhered to the wall after removal of the protective film.
3. press lightly with hand and let Broom Mop Holder fully touch the wall.
Matters needing attention
1. when mounting, the adhesive should not touch water or other objects.
2. used in the load-bearing range of Broom Mop Holder. The maximum Load Weight Up to 11 pounds.
3. strong adhesion, suitable for wood, plastic, ceramic tile, metal, glass and other surface use, a bit rough or grain is also suitable. The surface of other objects that are too fluffy or Irregularity should be used with caution.

YOUSHANGJIA Amazon ASIN B07BQLYY9T Tools & Home Improvement Storage & Home Organization , Garage Storage , Storage Racks