---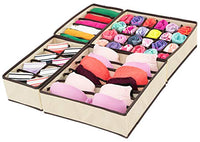 DIMENSION. 13 ½"L x 4"H x 12"W = big 6 cell and 24 cell bins - 13 ½"L x 4"H x 6 ½"W = small 6 cell and 8 cell bins
EACH SET INCLUDES 4 ORGANIZERS. You can use the 24 cube cells for socks, stockings, ties, scarves or other accessories. The one with the 5 oblong cells can be used for underwear, larger scarves, or tanks. The one with the 7 longer oblong cells can be used for bras. Actually, the organizer can be used for almost anything, for a neat and organized, eye pleasing uniform look.
IT IS VERY COMPACT AND EASY TO SET UP when needed, and fold away when not used. Method: There is a vertical opening on the edge of each box. Please remove/install the cardboard pieces into these openings as needed. The fit should be secure and snug.
CLASSIFY UNDERWEAR, socks, neck ties, scarves, bras, accessories etc. Easy to find which one you want to wear without creating a mess. Or without to much rummaging
Material: EVERYTHING IS MADE OUT OF NON-WOVEN BREATHABLE FABRIC, which is moth-proof, mold-proof, moisture-proof, and very durable. The removal square boards are made of cardboard.
Ziz Home Amazon ASIN B01AQYPUI6 Home & Kitchen Storage & Organization, Clothing & Closet Storage, Drawer Organizers