---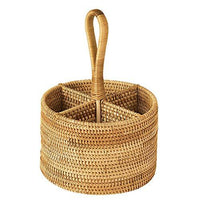 It is a 4 compartments storage container; Dimensions:200mm(Length) * 200mm(Width) * 130mm(Height) / 7.87"(L)*7.87"(W)*5.1"(H)(11.4" height from bottom to handle top)
Material: Made of 100% durable natural rattan,woven by handcraft man using traditional handcraft woven way.
Features:pure handcrafted,using eco-friendly and green natural materials,make it durable and economic,looks like grunge and rural.It is a great decoration with your rustic style
Occasion: It applies to everywhere,such as restaurant,home,kitchen,office tea room,party,living room etc.Holding your untensil and spice bottles in kitchen and restanrant;Collecting your makeups,lips,brush,eyebrow pencil etc;Gathering knife and forks,chopsticks and silverware;Dividing your snacks;Organizing your remote controllocker control things.
Size and color difference:Each set may have a little bit difference in size and color because of handmade craft and natural material.If you don't mind,welcome to purchase it.
Handweaved Rattan 4 Compartments Round Storage Box Cosmetics Organizer Utensil and Bottle Serving Basket with Handle
Specifications:
Package:
1pcs Four-compartment Storage Bin with Handle
Material: Natural rattan
Size: 200mm(Length) * 200mm(Width) * 130mm(Height) / 7.87"(L)*7.87"(W)*5.1"(H)(11.4" height from bottom to handle top)
Feature: 100% handmade
Style: Rustic Style, Handcrafted style ,Decorative Organizer
The devider set is made of 100% natural rattan material, 100% handwoven by handicraftman.
It is green, eco-friendly and durable
It has multipurpose,being as collection storage,collecting remote controlkeyspen and other small things on table;gathering kitchen fork,sliverware,spice bottle and other kitchen things.It is ome life decoration
Notes:
Easy to clean up with damp cloth Each rattan storage bin will have a little slight variations in size due to handmade Each rattan storage bin will have a little different color due to natural material using Do not long-term placed in too wet shade, so as to avoid moldy borers Do not long-term exposure to it in big sun or rain washed.
I-lan Amazon ASIN B07JZ22C7Z Home & Kitchen Kitchen & Dining , Storage & Organization , Kitchen Storage & Organization Accessories