---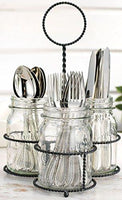 SET OF 3 MASON JARS LINED UP IN A WIRE BASKET METAL TRAY UTENSIL CADDY(BLACK) : Serve and display everyday utensils, flatware, silverware, kitchenware, toppings, flowers, and much more organized, upright, and easily accessible.
CONVENIENT & EASY MOBILITY: Lightweight and portable with convenient handle for easy mobility— Quickly transport kitchen utensils kitchenware, or your favorite fruits or toppings - cherries, olives, lemon wedges, and more. Perhaps a salad bar or ice cream topping tray to an outdoor barbecue or use while tailgating outside the Camper/RV. Portable wire caddy makes it easy to transport to your backyard and patio for outdoor cooking, or to dining table whenever you have a home party.
INDOOR/OUTDOOR ENTERTAINING: Ideal for hosting indoor/outdoor dinner parties, events, and holiday gatherings—Add multiple caddies if you entertain large groups of people frequently, A perfect gift for family and friends.
MULTI-PURPOSE: Versatile and holds a variety of items (not only utensils) — Store office supplies, crafting materials, beauty products, toiletries, tech/gadget accessories, and much more
CLEVER ORGANIZATION: Holds plenty to keep items organized and within reach —Features 3 mason jars—Classic black finish complements any theme or décor with a stylish design — Durable and made of steel. Flatware Caddy with clear preserve jars Measures as follows: Caddy Measures 13.75 in. H x 9 in. W The mason jars measure: 4 in. L x 4 in. W x 6 in. H. Capacity is 30 ounces.
This 3-piece mason jar utensil holders with wire caddy will keep your cooking utensils neatly organized and all in one place. Or you can use them separately. One can be used for storing cooking utensils nearby the stove-top while others can be placed next to the sink. This utensil holders Set is also great for the party. The wire caddy allows you easily carry organized flatware/silverware to anywhere you want. Our utensil holder caddy set is also a great gift idea for Mom, Grandma or Wife. They will surely fall in love with this beautiful yet functional utensil organizer! Whether you are looking to complete the vintage feel of your event or decorating your home, this exceptional holder will add rustic elegance to any setting! Constructed of the finest quality glassware and fashioned into the shape of traditional mason jars, complete with a coordinating metal stand. Can be used for flatware, serving utensils, or other items you want to keep at the ready. Store utensils, kitchenware, or use as a creative serving tray filled with your favorite fruits or toppings - cherries, olives, lemon wedges, and more. Perhaps a salad bar or ice cream topping tray The possibilities are endless. This family of jars fits in the custom-made wire basket, complete with handles for easy carrying. Add a vintage country feel to any table or kitchen with this adorable set of storage jars.
Home Essentials Amazon ASIN B00H85Q94G