---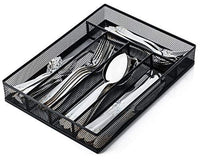 Durable Material- Sturdy environmental carbon steel with silver epoxy coated finish protects your flatware from damage. It will not rust.
Multi-Functional - Perfect for kitchen, drawer, countertop, restaurant, Also can be used for school and office to hold pens, markers, scissors, clips, glues, etc.
Mesh Steel Construction- Provides easy cleaning and quick-drying. Keeps the tray from accumulated water.
Non-Slip Foam Feet- Keep the tray from sliding around when you open or close the drawer. The extra height on the bottom that avoids your cutlery touch to the desktop.
5 Compartments- Easily accommodate your silverware storage needs. The silverware tray will not collect dirt and/or grime like similar plastic trays. Dimensions: 12. 5" X 9. 4" X 2"
Iris'Home 5-compartment Sturdy Utensil Drawer Organizer-Black
Create valuable Plane space with this sleek-looking Cutlery Tray from Iris'Home.
Combining contemporary good looks with a mesh design,
the Cutlery Tray quintuples your kitchen space, A useful addition to any living space or storage area.Overrall Dimension :
12.5 inches long by 9.4 inches wide by 2.0 inches deep Works Anywhere:
Placed in the kitchen, the cutlery Tray holds anything from can opener and a pair of scissors to forks and spoons, knives.
In the living room, the Tray beautifully displays pencil, books, magazines, board games, and more,
while in an office setting, it can help keep files, documents, and supplies neatly organized.
It would be a great idea to place this tray in the bathroom,
which helps keep shaver, toothbrush, toothpaste, and soap neatly organized.
The best advantage of the tray is it doesn't collect hard water spot.
For small dorm rooms, the tray makes use of available flat space for keeping documents, snacks, textbooks,
and more in order and easily accessible.
The cutlery tray can also be used to keep garage clutter under control;
it works great for heavy cans of paint, toolboxes, gardening supplies, extension cords, and more.
The tray quickly provides added flat space, wherever it's needed most. Reminder:
Make sure to measure your drawer and compare against the listed measurement of this tray.
The measurements provided in the products specs were spot on.
Almost all the customer feedback that this tray fit for their narrow drawer. Running this thing through the dishwasher and it probably would be rusted In The Box
A Cutlery Tray Only
JANE EYRE Amazon ASIN B07L8XDSPF Home & Kitchen Kitchen & Dining , Storage & Organization , Cabinet & Drawer Organization , Flatware Organizers