---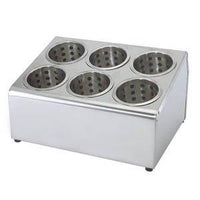 Organize and store your servicing flatware silverware utensils with this commercial 6-hole flatware silverware holder organizer.
Used widely in commercial restaurants and kitchens, this flatware organizer securely organizes and stores a variety flatware, silverware and other kitchen utensils with quick hand-reaching accessibility.
Six (6) cylinder holder inserts included.
FEATURES: 6-Hole rolled-edge safety slots, 6 Stainless steel cylinder holders, Removable cylinder holders, Sturdy finish stainless steel frame, Natural finish steel look, 4 Rubber feet for secure setting.
DIMENSIONS: Length - 14 3/4 inches Width - 11 3/4 inches Height - 8 1/4 inches Diameter (cylinder holder) 3 3/4 inches Depth (cylinder holder) 5 1/4 inches.
Organize and store your servicing flatware silverware utensils with this commercial 6-hole flatware silverware holder organizer. Used widely in commercial restaurants and kitchens, this flatware organizer securely organizes and stores a variety flatware, silverware and other kitchen utensils with quick hand-reaching accessibility. Six (6) cylinder holder inserts included. FEATURES: 6-Hole rolled-edge safety slots 6 Stainless steel cylinder holders Removable cylinder holders Sturdy finish stainless steel frame Natural finish steel look 4 Rubber feet for secure setting DIMENSIONS: Length - 14 3/4 inches Width - 11 3/4 inches Height - 8 1/4 inches Diameter (cylinder holder) - 3 3/4 inches Depth (cylinder holder) - 5 1/4 inches
Chef World Amazon ASIN B00ZEMXSQM Home & Kitchen Kitchen & Dining, Storage & Organization, Cabinet & Drawer Organization, Flatware Organizers