---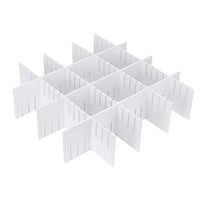 Made of high quality plastic, it is wearable and not easily broken.
It could be cut to fit for drawer without damaging the draawer or buying a new one.
The board is full of snap buckle for free combination.
Wide appliation: Storing office supplies, kitchen utensil tools, necktie, belt, scarf and underwear, etc.
Package Including:5 x Drawer Divider
Description

These five plastic boards could be combined freely to shape the most proper divider for certain drawer, and it also could be placed on other place instead of drawer. Classify underwear, socks, neck ties, scarves, bras, accessories etc. Easily find the one you want to wear and never need to ransack all of your clothes.

Feature

- Color: White
- Material: Plastic
- Size: 47x13cm.
- Made of high quality plastic, it is wearable and not easily broken.
- It could be cut to fit for drawer without damaging the draawer or buying a new one.
- The board is full of snap buckle for free combination.
- Wide appliation: Storing office supplies, kitchen utensil tools, necktie, belt, scarf and underwear, etc.
Package Including
5 x Drawer Divider
NICEXMAS Amazon ASIN B07KN8FQ5M Home & Kitchen Storage & Organization , Clothing & Closet Storage , Drawer Organizers