---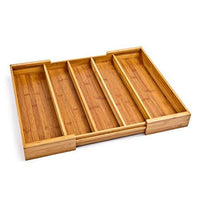 Customizable tray expands from 13" to 23" wide. Unit measures 18" long and 2.5" high. Keeps your drawers organized.
Sustainable, durable bamboo construction. Fast-growing and plentiful, bamboo is a naturally hardy building material. Easy to maintain, wipes clean with soap and water.
Five long compartments. ideal for cooking utensils and tools like spatulas, ladles, tongs, whisks, can openers, forks, knives and food thermometers
Multipurpose design also functions well as a craft drawer, supply storage, office drawer organizer, hair accessory holder, and more!
Seamstresses and tailors can organize their sewing kit with compartments for their needles, threads, crochet sticks, buttons, thimbles and tape measures
Tidy up drawers in your home with Seville Classics' Expandable 5 Compartment Drawer Organizer. Tray has three static compartments and two that expand on either side. Built from bamboo, our tray is a natural, durable alternative to plastic and hardwood utensil trays and drawer organizers. Bamboo is as dense as maple and lighter weight than oak. Extra-long compartments are ideal for organizing kitchen tools, like spatulas, whisks, ladles, corkscrews and gas lighters. Use it outside the kitchen to tidy junk drawers around the house. Organize art supplies like pens, pencils, brushes, paint, and ink. Keep needles, crochets sticks, thimbles and thread for seamstresses in order. Cleans easily with a damp cloth and soap. DO NOT submerge in water
Seville Classics Amazon ASIN B0058SORE4 Home & Kitchen Kitchen & Dining, Storage & Organization, Cabinet & Drawer Organization, Flatware Organizers